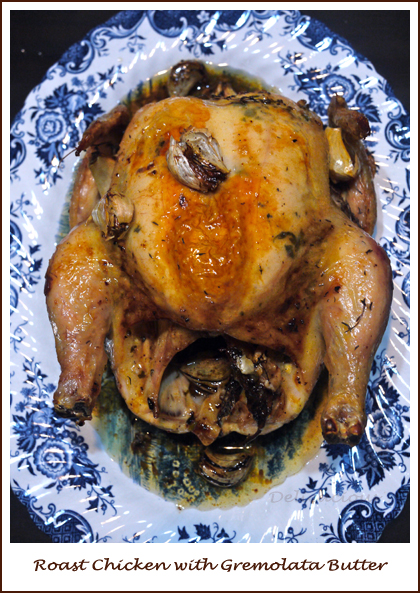 I've a weakness for recipe books with beautiful, mouthwatering pictures. Better yet if the book has an interesting layout. Written by a well-known chef that I like? I am sold. Even if the recipes seem too complicated to reproduce. Result of that? I've many cookbooks with recipes that I've never tried. Perhaps I'm not the only one guilty of that. Any readers who do that too? 🙂
Anyhow, Thomas Keller is one of those chefs that I like. I like the way his recipe books and I own a few of them though most of them fall into the category of "cookbooks with recipes I've never tried". So when "Ad hoc at home" was published, I decided that it was a good book to buy. Afterall, it depicts the recipes that can be reproduced at home, yes? Alas, I bought the book and it disappeared into the shelf of cookbooks, and the months past.
So one fateful afternoon, not too long ago, I finally decided to dig out the book and try something from it. My eyes fell onto a recipe for roast cornish hens. Well, I didn't have cornish hens, but I did have a chicken sitting in the fridge and so I decided to adapt the recipe for it.
The result is a beautifully roasted bird, as seen in the photo above. Moist, tender, succulent and full of flavour, thanks to the gremolata butter. Absolutely lovely and my family raved about it. The gremolata butter can also be used for other meats or fishes. Try it! I'm sure you will love it as much as I did.
Roast chicken with gremolata butter

Print recipe
Ingredients
sea salt and ground black pepper
canola oil
6 cloves garlic
1 sprig thyme
Chicken
Gremolata butter
1/4 teaspoon black peppercorns (whole)
zest of 1 lemon
1 garlic clove (grated)
2oz unsalted butter (at room temperature)
w teaspoon lemon juice
2 teaspoons flat-leaf parsley (finely chopped)
1/4 teaspoon sea salt
Directions
Step 1
Remove chicken from refrigerator and set aside while you make the butter.
Step 2
Using a pestle, grind peppercorns in a mortar. Add lemon zest and garlic and mash to a paste.
Step 3
Put butter in a medium bowl and mix in pepper mixture, followed by lemon juice. Stir in parsley and salt.
Step 4
Clean chicken and dry well with towels. Leave fat or skin at neck attached and trim off any excess fat.
Step 5
Starting at the cavity end of the chicken, carefully run your fingers between the skin and flesh of the breast and then the thighs to loosen the skin. Spread the butter mixture evenly under the skin of the bird, covering the thighs and the breast.
Step 6
Let the chicken come to room temperature (about 30 minutes). Meanwhile, preheat oven to 220°C.
Step 7
Brush the chicken with canola oil and season with salt. Place chicken on its back in a roasting pan. Scatter garlic and thyme evenly around it.
Step 8
Roast chicken for about 35 - 45 minutes, or until golden brown and temperature registers 70°C in the meatiest portions of the chicken - the thighs and under the breast where the thigh meats the breast.
Step 9
Transfer chicken to a cooling rack and allow it to cook for 15 minutes. Serve the chicken in quarters, arranged on a serving platter and garnish with garlic and thyme.