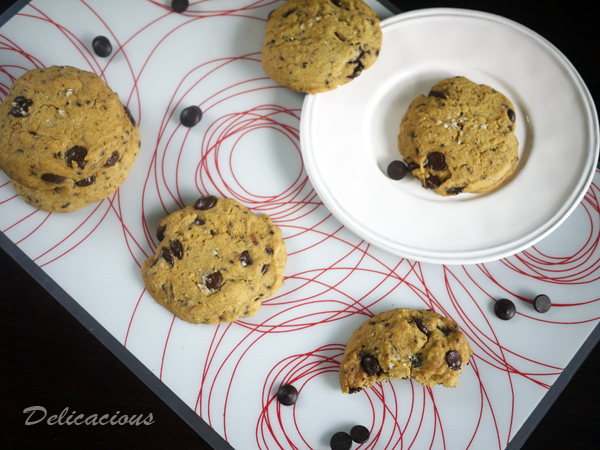 A couple of years ago, I picked up the sweet and salty bug. The bug that made me love all things that were a combination of sweet and salty – salted caramel, world peace cookies and even McDonald's McGriddle Sausage and Egg muffins. Yes I am not kidding, even that. It is a really persistent bug because years later, I still love things sweet and salty.
About a week ago I was thinking of baking cookies and was combing through a couple of recipes, thinking of what to bake. I came across Amanda's Brown Butter Salted Caramel Mocha Cookies and thought they were perfect. I wanted a cookie that was less sweet however, so I decided to omit the caramel this time round, increase the chocolate chips and add in cornstarch to make the cookies chewy. Yes – did you know that adding cornstarch to your cookie batter makes your cookies chewy in the middle? Try it. It works.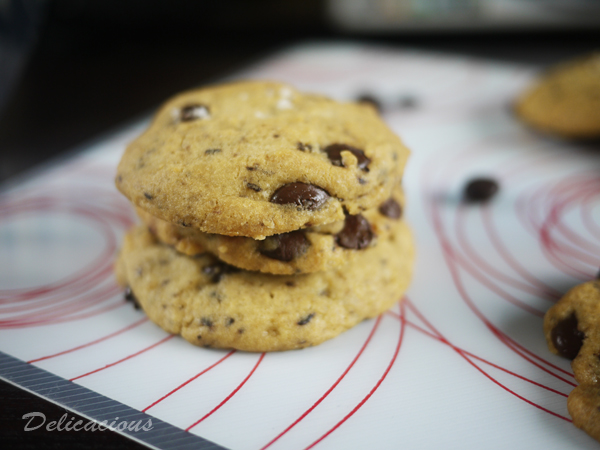 The verdict? These cookies were amazingly good. Coffee lovers especially loved them – the combination of bitter coffee, sweet chocolate chips and sea salt was definitely a winner.
Salted Coffee Chocolate Chip Cookies
Ingredients
8 ounces unsalted butter
1¼ cups packed demerara sugar
1 large egg plus 1 egg yolk
2 tsp vanilla extract
2¼ cups plain flour
2 tsp cornstarch
2 tablespoons instant coffee powder
1 teaspoon baking soda
½ teaspoon sea salt (I use fleur de sel)
1 cup bitter-sweet dark chocolate chips (I use a mixture of 55% and 70%)
Fleur de sel for sprinkling
Instructions
Preheat oven to 190°C.
In a heavy bottom saucepan, melt butter. When it foams, whisk it continuously till it browns. Set it aside to cool.
In a large mixing bowl, sift flour, cornstarch and baking soda. Add in coffee powder and sea salt and mix to combine.
In the bowl of a standing mixer fitted with the paddle attachment, beat cooled butter and sugar on medium high speed until combined, about 3 minutes.
Add in eggs and vanilla extract and beat to combine.
Turn mixer speed to low and add in flour mixture in 3 parts. Do not over mix.
Fold in chocolate chips.
Using an ice-cream scoop, place scoops of cookie batter 2 inches apart on a baking tray lined with baking paper or non-stick baking mat.
Sprinkle sea salt on each cookie.
Bake for 12-15 minutes, until edges are slightly brown.
Allow it to cool on a cooling rack.
Store in an air-tight cookie jar for up to 4 days at room temperature or freeze it for a longer storage.
Notes
Recipe adapted from Kevin and Amanda.
http://www.kevinandamanda.com/recipes/dessert/brown-butter-salted-caramel-mocha-cookies.html