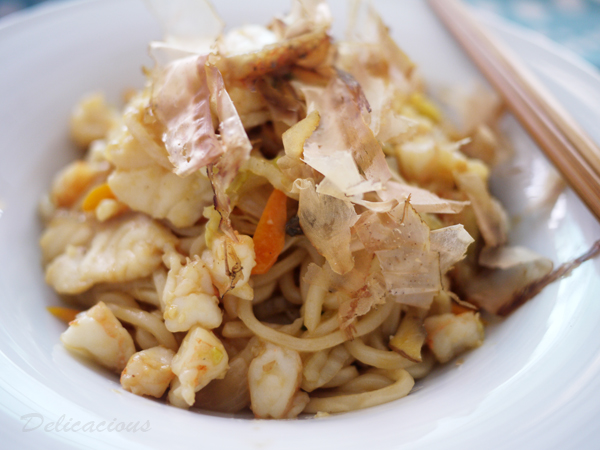 My daughter loves noodles. Whenever we ask her what she would like to have for lunch, the answer would be either noodles or pasta. Rice would never be mentioned. It's a pity that she does not like rice very much because for us Chinese, it is often a staple at dinner. Hence, I usually try to vary what she has for lunch.
So a couple of days ago, when her request was once again noodles or pasta, I scratched my head as to what to prepare. I remembered that we had a few packs of frozen udon and figured we could do a udon noodle soup. That seemed a tat bit boring though, and so I decided to try my hand at making yaki udon, or fried udon.
I looked through my favourite go-to Japanese food blog Just One Cookbook, and to my delight, found a basic recipe for yaki udon. Since I didn't have pork nor shitake mushrooms, I decided to modify the recipe and came up with seafood yaki udon instead. I didn't have store bought Mentsuyu, and so made my own version of it. The addition of garlic was to remove any possible fishiness from the seafood. I think the noodles tasted pretty good and my daughter agrees!
Seafood Yaki Udon
Ingredients
Yaki Udon
2 pkg frozen udon noodles, boiled
2 tsp vegetable oil
1 garlic clove, finely chopped
100g sliced fish
5 large prawns, cut into large pieces if preferred
½ medium onion, sliced
½ carrot, peeled and very thinly sliced
3 leaves cabbage, sliced thinly
2 stalks of spring onions, cut into segments
3 Tbsp. water
3 Tbsp. Mentsuyu
Mentsuyu
¼ cup soy sauce
½ cup water
¼ cup mirin
1 tsp sugar
handful of bonito flakes
Instructions
To make mentsuyu
Put soy sauce, water, sugar and mirin a medium size pot and bring to a boil.
Add bonito flakes and bring to a boil again.
Turn off the flame and allow it to cool.
Strain broth several times before use.
Yaki Udon
Heat oil in a medium skillet till hot.
Add garlic and stir fry till fragrant.
Add fish and prawns and stir fry till almost cooked. Remove and set aside.
Add onions and cook till soft.
Add the rest of the vegetables and cook till soft.
Add udon, fish and prawns and stir to combine.
Add water and allow it to simmer for about 2 minutes.
Add in Mentsuyu.
Mix well and serve hot, with bonito flakes as a topping.
Notes
Reciped adapted from Justonecookbook.com