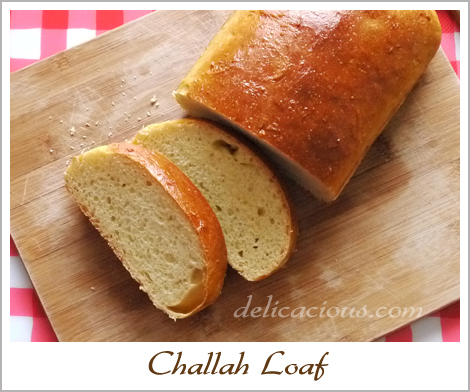 Challah is the bread served traditionally in Jewish cultures. It is very fragrant thanks to the addition of butter and eggs, and is also mildly sweet from the added honey. Challah is versatile enough to be substituted in most recipes requiring brioche dough and it contains half the amount of eggs so why not try baking some?
The recipe below is adapted from one of my favourite bread books – Artisan Bread in Five Minutes a Day. I think the brilliant part about their recipes is that one does not need to knead the dough nor punch it down after it rises. Also, a larger batch of dough can be made and stored in the fridge, ready to use whenever you want. How convenient!
Challah Dough
Makes about 4 pounds of dough

Ingredients:
1 3/4 cups lukewarm water (105ºF to 115ºF)
1 1/2 tbsp granulated yeast
1 1/2 tbsp salt
4 large eggs, beaten
1/2 cup honey
1/2 cup unsalted butter, melted
7 cups of unbleached all-purpose flour
Method for mixing dough:
Mix yeast and warm water in the bowl of a standing mixer and leave it for 5 minutes.
Once yeast starts to foam, add in salt, beaten eggs, honey and butter and mix well.
Mix in the flour without kneading using a dough hook.
Transfer dough to a container with a non air-tight lid and leave in a warm place to rise for approximately 1 hour 30 minutes to 2 hours.
Dough can be used immediately or stored in the refrigerator for 5 days. After 5 days, freeze the remaining dough.
Method for making challah loaf:
Dust the surface of the refrigerated dough with flour and cut off a 1-pound piece.
Dust the surface of the piece of dough with more flour and quickly shape it into a ball by stretching the four sides of the dough.
Elongate it to an oval and drop in into a greased loaf pan.
Allow it to rest and rise for 1 hour 20 minutes (for refrigerated dough) or 40 minutes (for fresh dough)
10 minutes before baking, preheat oven to 350ºF.
Brush the top of the loaf with egg wash made from one egg and one tablespoon of cream.
Place the bread on a rack in the centre of the oven and bake for 35 to 40 minutes, until the top is a nice golden brown.
Allow to cool before slicing.