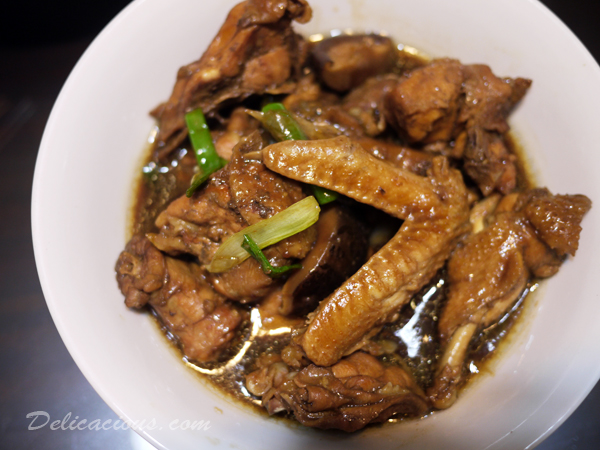 Soy sauce chicken is one of those comforting childhood dishes that I love. I love how it is so simple to prepare and requires no complicated or expensive ingredients. It is tasty, the gravy goes well with rice and it feeds the family. What else to ask for? If you prefer, throw in a couple of hard boiled eggs and it can be a one-dish meal when served with rice.
There are many variations of soy sauce chicken. Some versions add cinnamon and cloves, some add licorice, some keep it simple. I prefer to keep it simple and balance the saltiness of soy sauce with a little rock sugar. Why rock sugar, I hear you ask? Won't granular or caster sugar achieve the same taste? Well, rock sugar helps to thicken the gravy a little as it cooks; granular sugar will achieve a similar taste but different consistency of gravy.
In my recipe, I've decided to use a small chicken, cut up into pieces. If you prefer otherwise, you can substitute it with chicken thighs only, or even chicken wings. I quite like the version with chicken wings only. Somehow chicken wings absorbs the flavours best.
Soy Sauce Chicken
Ingredients
1 small chicken
6-8 pieces of chinese mushroom, soaked and stalks removed
6 cloves of garlic, smashed
1 tbsp oyster sauce
2 tbsp light soy sauce
2 tbsp dark soy sauce
1 tbsp shaoxing wine
½ tbsp pepper
2 tbsp oil
4 slices of ginger
4 small piece of rock sugar
3 stalks of spring onions, cut into sections
Instructions
Clean chicken and cut it into pieces.
Halve mushroom if desired.
In a large bowl, add chicken, mushroom, garlic and seasonings.
Mix well, cover and keep refrigerated for at least one hour.
In a pot, heat up oil and fry sliced ginger till fragrant.
Add in chicken and marinade and braise for about 20 minutes on a medium low flame till fragrant.
Just before serving, add in spring onions.
Serve hot with rice.
I share at these link parties.