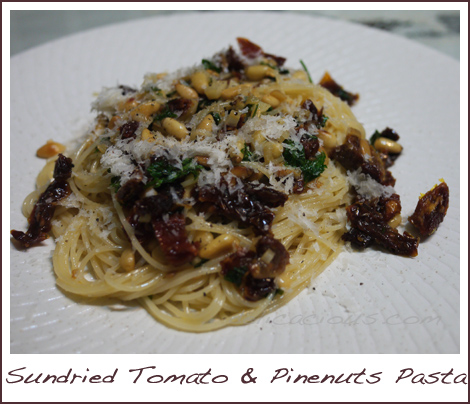 This is a really simple recipe that can be whipped up in a couple of minutes if you have the ingredients at home. I enjoyed how the sweetness of the sundried tomato complemented the woody fragrance of the pine nuts. The parmesan cheese brought it all together. I bought sundried tomatoes at the deli of Colds Storage, but I believe you can also buy them in tins or bottles, depending on the amount you wish to have. I've used fresh parsley in this recipe, but you can choose to substitute it with dried parsley. Reduce the amount to a third should you wish to do so.
Sundried Tomato and Pine Nuts Pasta
Serves 2
Ingredients:
5 ounces of spaghetti or linguine
2 tbsp olive oil
2 garlic cloves, minced
1/4 cup chopped drained oil-packed sundried tomatoes
2 tbsp fresh parsley, chopped
2 tbsp toasted pine nuts
salt and freshly ground black pepper
freshly grated parmesan cheese
Method:
Cook the pasta according to package instructions till al-dente. Drain pasta and reserve 1/2 cup of pasta liquid.
In a medium skillet, heat olive oil over medium heat.
Saute garlic till tender and add in sundried tomatoes and sauteed for 2 – 3 minutes.
Add in chopped parsley and sauteed for 30 seconds. Stir in pine nuts.
Add in drained pasta and toss to coat.
Season with salt and pepper.
Top with freshly grated parmesan cheese and serve warm.