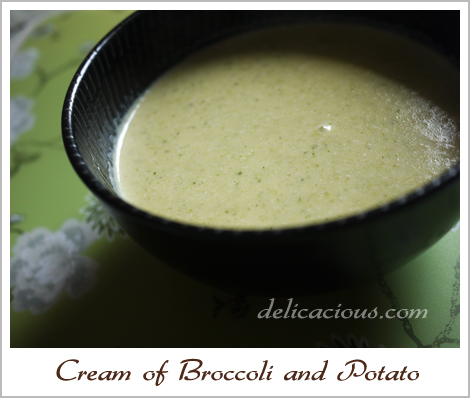 I am not usually prompt in updating my blog with the things I cook and bake. Usually, by the time a recipe shows up on the blog, it has been a few days/weeks/months old. This recipe however, is fresh from the stove. I just finished making this and after a bowl of it, I knew that I would really regret it if I do not pen it down as I would probably forget the ingredients and amounts in a couple of hours. This soup is GOOD.
I was combing around the kitchen for something for lunch and realised that I had a broccoli sitting in the fridge and a couple of russet potatoes that were going to grow into new plants if I do not use them soon. Even the onions were sprouting shoots. Since I had cream in the fridge, I decided to make a cream of broccoli soup, and throw in a couple of potatoes as well. The result was surprisingly tasty and so I'm recording this recipe down for future use.
Cream of broccoli and potato soup
Serves 4
Ingredients:
150g broccoli florets
3 tbsp unsalted butter
1/4 tsp ground cumin
1/4 tsp ground paprika
1 onion, chopped
2 medium russet potatoes, peeled and cubed
2 cups vegetable or chicken broth (I used vegetable)
1/2 cup of shredded mozzarella or chedar
1/2 cup of cream
1/2 cup of milk
salt and black pepper to taste
Method:
Boil the broccoli florets in a pot of boiling salted water for about 5 minutes or till tender. Remove and chop into smaller pieces and set aside.
Meanwhile, melt the unsalted butter in a medium frying pan over medium heat. When the foaming has subsided, add in the cumin and paprika.
Add in the chopped onions and stir fry till translucent.
Add in the cubed potatoes and stir fry for about 5 – 10 minutes.
In a medium pot, bring the broth to a boil.
Add in the onion and potato mixture and simmer till potatoes are tender. Add the reserved broccoli florets.
Using an immersion blender or a blender, process the soup until smooth.
Return to the heat and add in the cheese, stirring continually until it melts.
Stir in the cream and the milk and bring to a boil.
Season with salt and pepper before serving.