Mid week Wednesday seems to come by so quickly. Instead of the usual eating out on weekdays (since we're both too tired to cook), I thought that I'd fix something "simple". Home cooked food is always healthier anyway. We decided on something Japanese, seeing that we had some japanese ingredients that we hadn't yet used up. Hubby had been craving for cod since last week and so I figured why not? We can simply merge the two ideas together: Japanese and cod. I didn't have a recipe for this, but I vaguely remember eating something similar at Ichiban Boshi once, and so I decided to experiment.  The result?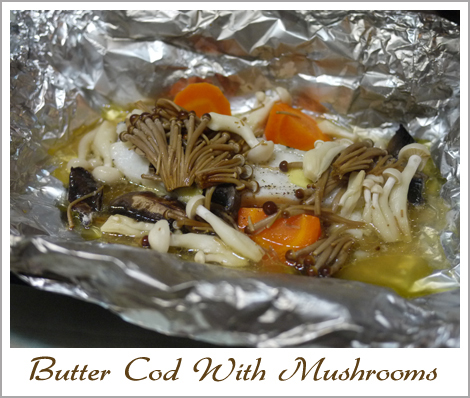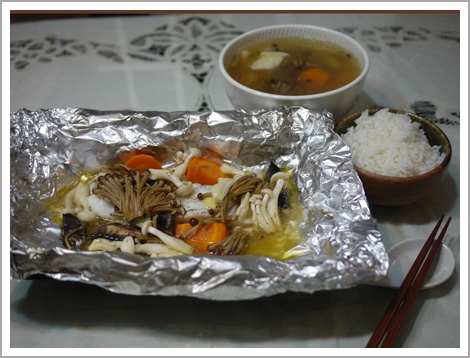 Serves 2
Ingredients:
2 pieces of cod fish  (or buy a piece of cod steak and halve it)
2 Handfuls of Japanese mushrooms (Shimeiji, Bunashimeiji, nametaki etc)
Half a carrot, cut into chunks and partially boiled
2 tbsp of butter (room temperature)
1 tbsp mirin
salt and ground black pepper
Method:
Preheat oven to 220°C.
Cut two large pieces of aluminium foil and fold them into half. Lightly grease the centre of the foil with oil. Make a well in each piece.
Season the cod with salt and pepper.
Place cod in the centre of foil. Add mirin and top cod with a tablespoon of butter.
Add mushrooms and carrots and wrap up parcel. When wrapping parcel, remember to leave some room for the parcel to expand.
Place foil parcels on a baking tray and bake for 10-15 minutes (depending on size of fish)
Serve hot with rice.
PS: The soup seen in the second picture is a simple dashi stock with added vegetables and tofu. The dashi stock was made from scratch by soaking kombu in water for 1.5 hours, then heating the water with kombu till it just boils. Remove kombu and add 1/2 cup of bonito flakes. Turn off the flame. After some time, strain the soup. Season to taste.