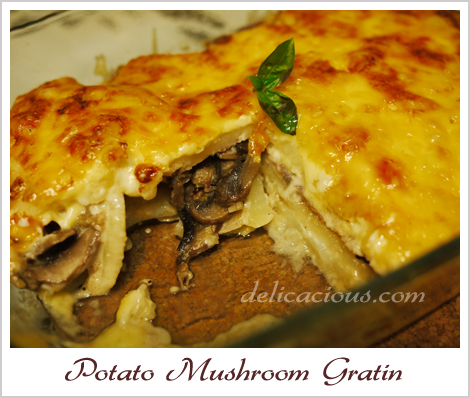 It was one of those days where we had potatoes to spare after making mash potatoes for dinner the previous night. We wanted something simple – a one dish meal paired with perhaps a salad, and so a gratin seemed like a good choice. When making potato gratins, I find that boiling the potatoes in milk or cream gives them a melt-in-your-mouth texture, and also improves the flavour of the entire dish. For gratins or baked rice/pastas, Swiss cheese (Gruyere especially) is the preferred choice as they yield a creamier result. I couldn't find any Swiss cheese in that particular supermarket and chose to substitute it with Gouda, which though is a less preferred choice, still made a great gratin.
Potato Mushroom Gratin
Serves 2 generously
Ingredients:
2 tbsp olive oil
1 cup chopped leeks (only the white and pale green parts)
170g sliced button mushrooms
2 garlic cloves, minced
340g russet potatoes, peeled and sliced to about 0.5 cm thick
1 cup half and half
1/2 tsp salt
1/2 tsp pepper
1/2 cup grated Swiss cheese
salt and black pepper
Method:
Heat oil in a frying pan and sauteed leeks till soft and lightly brown, about 8 minutes.
Add mushrooms, season with salt and pepper and sauteed till soft and liquid almost evaporates, about 6 – 8 minutes.
Add garlic and sauteed for another minute.
Set aside.
In a saucepan, combine half-and-half  with salt and pepper and add in the sliced potatoes. Bring to a boil and simmer till potatoes are partially cooked and half of the liquid has evaporated, about 3 minutes.
Preheat oven to 375ºF. Grease a gratin dish and transfer half of the potato mixture to the dish. Top with mushroom mixture and cover with the remaining potato mixture. Sprinkle cheese evenly over the potato mixture.
Tent dish with foil and bake for 20 minutes. Uncover and bake for another 15 – 20 minutes, until cheese is bubbling and golden brown.
Let it rest for about 5 – 10 minutes before serving hot.