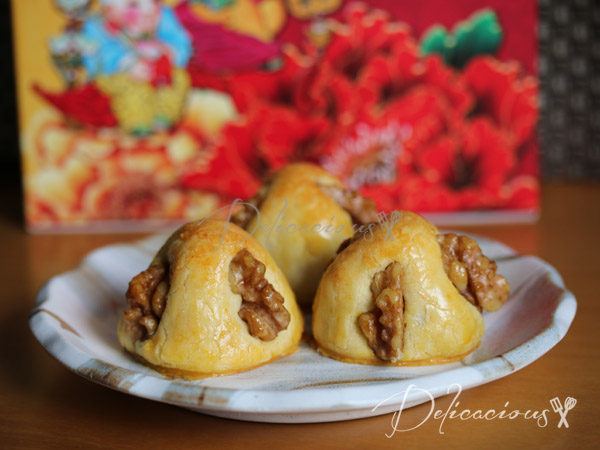 Walnut mooncakes are one of our family's favourites and I bake them every year. This year, I modified my usual recipe as I found it a little too crumbly. The pastry of the previous recipe doesn't quite hold up when it's cut. Besides some slight tweaks to the amount of butter and flour, I've also replaced baking soda with baking powder as baking powder yields a more neutral tasting product (since there aren't any acidic ingredients). I'm very satisfied with the results and my hubby, little one and mum loves it.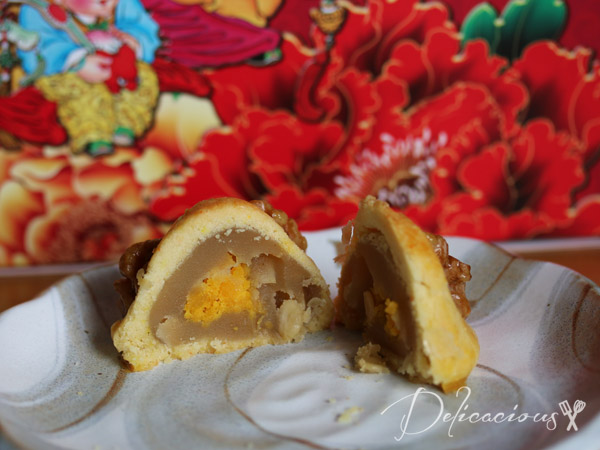 I've added melon seeds and salted egg yolks (my favouite) to the mooncake but you can choose to omit these if you like. As for the amount of walnuts to use, it really depends on your preference. I like walnuts so I use large fresh walnuts. Make sure that the walnuts you use are raw ones and not salted/toasted ones though.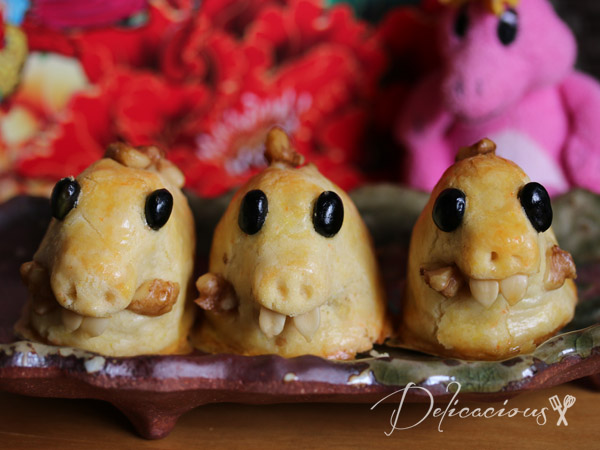 My hubby decided to join in the fun and made these dinosaur walnut mooncakes. I think he calls them dino-wal-saurus. I think they are totally adorable, though they are very time-consuming to make. He used black beans for the eyes, melon seeds for their teeth and walnuts for their scales. Check out their side profile below. He thinks that there's a market for these lovely dino-wal-saurus and all dino loving boys would love to have one. I would love to hear your thoughts on his creation!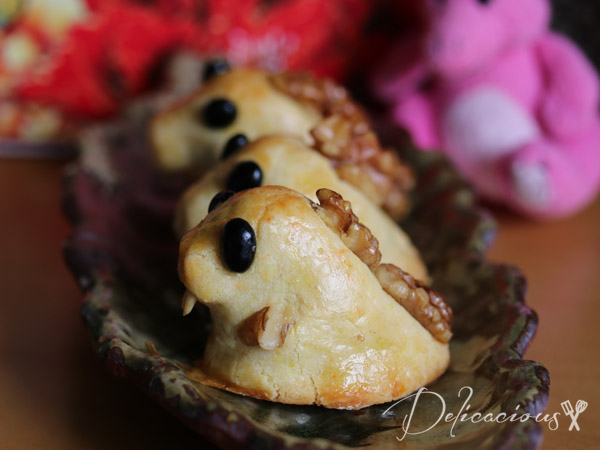 Walnut Mooncakes (Improved)
Ingredients
Pastry
350g Plain flour
30g Custard Powder
1 tsp baking powder
¼ tsp salt
50g Icing sugar
250g unsalted butter
1 egg
1 tsp Vanilla Essence
Filling
30g toasted melon seeds
750g White Lotus Paste
6-7 salted egg yolks (each cut into 6 pieces)
Before baking
1 Egg yolk + 1 tbsp water (for glazing)
Walnut for decoration
Instructions
In a large bowl, sift flour, custard powder, salt and baking powder together. Whisk ingredients together and set aside.
In the bowl of a standing mixer set to medium high speed, cream sugar and butter together until slightly pale and fluffy.
Gradually add in egg and vanilla and beat on medium high speed till fluffy and light.
Fold in flour mixture in two parts. Refrigerate dough overnight.
Bake salted egg yolks for 5 minutes at 160ºC. Set aside to cool. Cut each yolk into 6 pieces.
Mix melon seeds with lotus paste. Divide fillings into about 25g each.
Wrap a piece of salted egg yolk in each ball of filling.
Take out dough from fridge and divide into portions of 20g each.
Wrap fillings into dough and decorate with walnut.
Apply egg wash on mooncakes and bake at 160ºC for 10 mins.
Remove from oven and allow mooncakes to rest for 10 mins. Re-apply egg wash and return to oven and bake for another 20 mins or till golden.