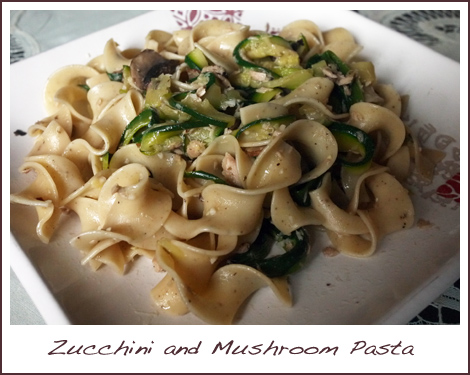 I found a packet of Lemon Pepper Pappardelle sitting in my cupboard, and decided to do something with it. Rummaging through my fridge, I found a zucchini and a pack of swiss brown button mushrooms. I decided to combine the ingredients, and the result is a simple, healthy and delicious pasta. I bought my pappardelle from Euraco. They have a retail shop at ToTT called Torque. You can however, choose to replace the pappardelle with your favourite spaghetti, linguine or fettucine.
Zucchini and Mushroom Pasta
Serves 2
Ingredients:
150g lemon and pepper pappardelle
2 tbsp olive oil
3 cloves of garlic, minced
1 zucchini, thinly sliced and cut into strips
6 swiss brown mushrooms, sliced
1/4 tsp dried oregano
salt and pepper
freshly grated parmesan cheese
Method:
Cook pappardelle in a large pot of boiling salted water till al dente.
Heat 2 tbsp of oil in a large skillet over medium heat.
Sauteed garlic till slightly soft. Add zucchini and sauteed for 3 – 4 minutes.
Add in mushrooms and sauteed till vegetables are tender.
Add in oregano.
Turn off heat and toss pasta in vegetables.
Season with salt and pepper.
Serve with freshly grated parmesan cheese.