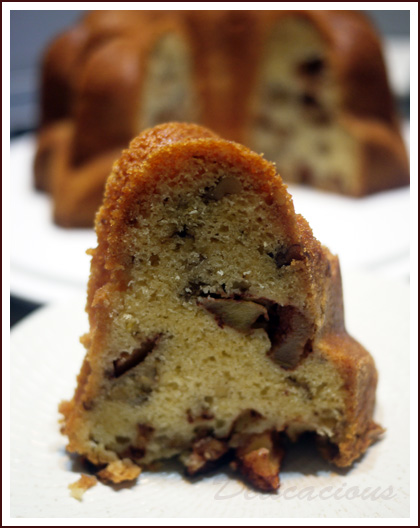 Not so long ago there was this fruit sale at my office (yeah, to encourage us to eat healthy). My friend was in-charge of the sale and she was asking me to buy the apples. So I told her jokingly, "Buy them for me and I will bake you something." WRONG MOVE. An hour later, I had 5 apples sitting on my table and I had to make good my word. I went home and lo and behold, my mom had bought another 4 apples. So I had 9 apples, and I better make something with it, fast.
So I flipped through my books for a simple recipe of something that required a lot of apples. I didn't want to make a tart because it seemed like too much work for a late night baking session. When I came across this apple cake recipe that required 6 apples, I knew it was the one.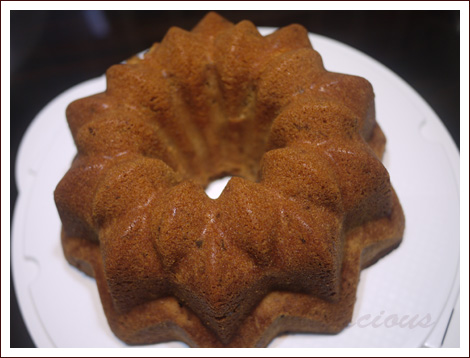 Enters apple bundt cake. The original recipe called for the cake to be baked in a tube pan. I didn't have a tube pan, but I have several bundt pans and figured that they would do the job too. Bundt pans typically do an excellent job in getting the cake evenly baked while keeping it moist. Sounds like the perfect pan to use for this cake. I also like bundt cakes because they typically feed a crowd, and are so easy to cut up and serve (just follow the markings on the cake and you have a perfectly divided cake). They also look pretty and the cake hardly needs any decoration, though a dusting of powdered sugar would perhaps complete the look.
The cake was every bit what it promised to be – fully apple-ly and fully cake. Apples and cinnamon. Add walnuts and you will never go wrong. The walnuts add texture to the already flavourful cake and the bundt pan kept the cake oh so moist. Colleagues raved about it and I am sure you would too, if you try it.
Apple bundt cake
An excellent apple bundt cake that's filled with apples, accentuated with walnuts and the flavour of cinnamon.
Ingredients
6 apples, peeled and cut into ½ inch chunks
1 tbsp ground cinnamon
1½ cup plus 5 tbsp sugar
2¾ cups plain flour
1 tbsp baking powder
1 tsp salt
1 cup canola/vegetable oil
¼ cup orange juice
2½ tsp vanilla extract
4 eggs
1 cup walnuts, chopped
Instructions
Preheat oven to 175°C.
Butter and flour a 10-12 cup large bundt pan or use non-stick spray.
Toss chopped apples with 5 tbsp sugar and cinnamon. Set aside.
Sift the flour, baking powder and salt together in a large bowl.
In a standing mixer fitted with the paddle attachment, combine oil, orange juice, remaining sugar, vanilla extract and eggs.
Add in flour mixture in 2 parts with mixer on low. Scrape bowl to ensure even incorporation. Stir in walnuts.
Pour half of the batter into the pan. Spread half the apple chunks.
Top up pan with remaining batter and spread evenly.
Arrange remaining apple on top.
Bake for 1½ hours, or until a tester comes out clean.
Allow to cool completely in pan before turning it out onto a serving plate.
Notes
Recipe is adapted from The Smitten Kitchen Cookbook