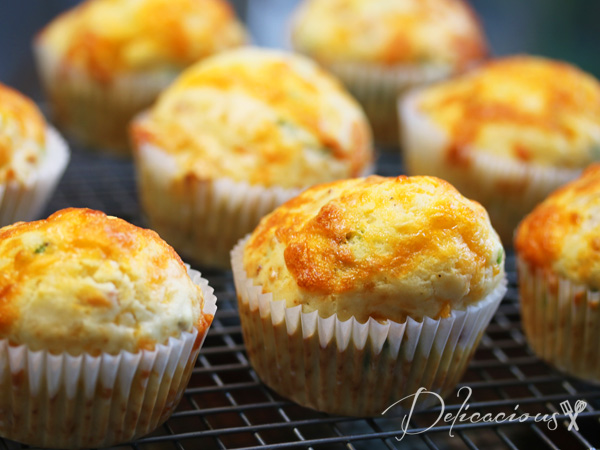 I've been baking alot of muffins lately. Maybe twice to thrice a week. I wake up in the morning, quickly put together the muffins, plop them into the oven and by the time I'm done with my shower, the muffins are also done. Piping hot breakfast for the family. The big plus? Muffins *usually* do not require the use of a mixer. I don't even bother sifting the flour typically. Just throw all the dry ingredients in the mixing bowl and whisk them together for about 15 seconds. Done.
There a couple of sweet muffin recipes on this blog, but since my dear hubby expressed (a couple of months back) that he very much prefers savoury breakfasts, I've been attempting to increase the savoury quotient in our breakfasts. Cheese muffins are great. Add bacon and it's a combination made in heaven. Scallions cut the edge off the saltiness of the cheese and the bacon. Perfect.
Bacon, Cheese and Scallions Muffins
Ingredients
2 cups plain flour
2½ tsp baking powder
½ tsp salt
¼ tsp black pepper
1 cup shredded cheese (I used cheddar)
½ cup chopped scallions
1 cup milk
2 eggs
2 tbsp olive oil
4 slices back bacon, baked till crisp and cut into small squares
Instructions
Preheat oven to 175°C or 160°C fan mode.
Line a 12 hole muffin pan with liners.
In a large bowl, whisk together flour, baking powder, salt and pepper.
Add in scallions and cheese and mix to combine.
Whisk together milk, eggs and olive oil in a separate bowl.
Pour wet ingredients into the flour mixture and using a spatula, roughly combine the mixture.
Fold in the bacon. Do not overmix!
Divide among 12 muffin holes.
Top with some more shredded cheese (optional)
Bake on the centre rack for 20-25 minutes, or until tops are golden brown and a tester comes out clean.
Notes
Adapted from http://abeautifulbite.com/ham-scallion-and-cheddar-muffins/