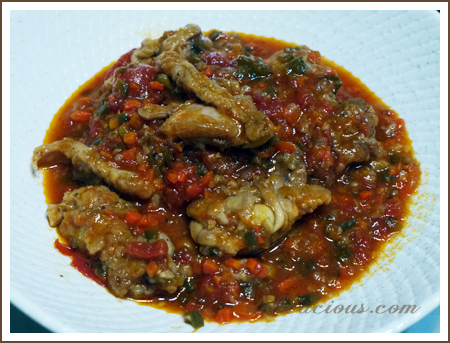 I enjoy one-pot dishes. It means less fuss, less washing and meals get prepared in a much shorter time. An added bonus if both adults and children can enjoy it. My other chicken cacciatore recipe on this blog uses pepper flakes to add depth to the sauce. This will definitely not go well with my 13 month old daughter and hence, I cooked up another version of  chicken cacciatore, a more child-friendly one. Interestingly, this turned out just as well, if not tastier, than the previous version.
Chicken Cacciatore
Serves 3 – 4
Ingredients:
4 chicken thighs, cut into 3 pieces each
salt and pepper
2-3 tbsp flour
3 tbsp olive oil
1 onion, chopped
3 cloves of garlic, minced
1 green pepper, diced finely
1 carrot, chopped finely
1/4 tsp dried oregano
1/4 tsp dried thyme
3 bay leaves
1 can diced plum tomatoes
1 cup chicken stock
1 tbsp brown sugar
salt and pepper to taste
Method:
Season chicken with salt and pepper and coat with flour.
In a large deep pot/french oven, brown chicken pieces in olive oil.
Remove chicken and set aside.
In the same pot, add garlic and onion and sauteed till onion is translucent.
Add carrot and green peppers and stir fry for about 3 – 4 minutes.
Add in dried herbs, bay leaves, brown sugar, tomatoes and chicken stock and bring to a boil.
Nestle the chicken pieces in the sauce, cover the pot and simmer for 30 – 40 minutes or until chicken is tender and sauce is thickened.
Season with salt and pepper.
Serve hot, over rice or mash potatoes.