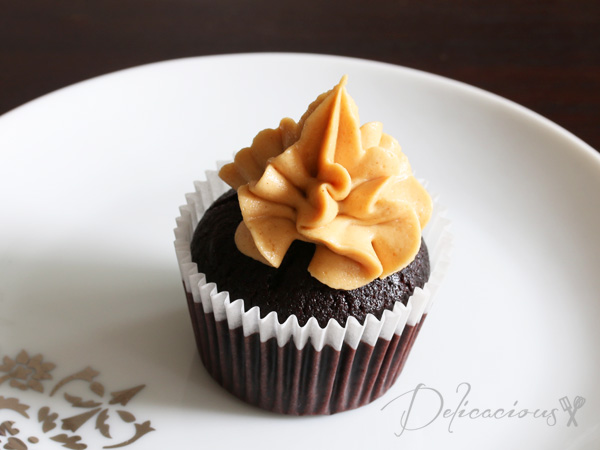 These cupcakes are likely the most decadent cupcakes that I've ever made. A moist chocolate cupcake topped with luscious peanut butter frosting. To up the decadent factor, I filled these cupcakes with a rich chocolate ganache. Gorgeous isn't it? I baked 50 of these lovely beauties in two days. The first batch was for an office gathering and I ended up with so much left-over frosting that I baked another batch for my cell-group party.
To be honest, I didn't originally plan to fill these cupcakes with ganache. However, I was inspired when I came across the Wilton filling tip on a trip to  Phoon Huat. Afterall, I had some leftover ganache from making the Chocolate Banana Cake, and thought, why not? More chocolate is always better, right? (By the way, I love love LOVE the filling tip. You don't need to dig an ugly hole in the cupcake. Just stick the tip in and pipe away. Amazing.)
So there you have it. Chocolate ganache-filled cupcakes, topped with peanut butter buttercream. Don't tell your guests that you've filled them with ganache. Watch their faces after they take a bite. You can also get creative with the filling. How about some chocolate liqueur ganache? That sounds pretty awesome too.
Chocolate Ganache-filled cupcakes with Peanut Butter Buttercream
Ingredients
Chocolate Cupcakes
1 cup cake flour
1 cup plain flour
¾ cup dutch-processed cocoa powder
1 tsp baking powder
2 tsp baking soda
1 tsp salt
1⅓ cup Demerara sugar
2 eggs (room temperature)
¾ cup vegetable oil
1 cup buttermilk (Add 1 tbsp white vinegar and add milk to form 1 cup)
1 cup hot coffee (1 tsp instant coffee granules dissolved in hot water)
1 tsp vanilla extract
Chocolate Ganache
60g dark chocolate couverture (I used a mix of milk and dark couverture)
½ cup whipping cream
Peanut Butter Buttercream
115g unsalted butter
1 cup creamy peanut butter (I used Planters)
1 cup icing sugar, sifted
3 tbsp whipping cream
Instructions
Chocolate Cupcakes
Preheat oven to 175°C and centre an oven rack.
Fill a 12 hole cupcake tray with paper liners.
In a large bowl, sift together the dry ingredients.
In another large bowl, combine the wet ingredients.
Add the wet ingredients to the dry ingredients and using a whisk and starting from the centre, slow combine till you get a smooth batter.
Fill each liner till ¾ full.
Bake for 17-20 minutes or until a tester inserted in the middle of the cupcake cups out clean.
Cool cupcake tray and fill with the remaining batter. You should have 24 cupcakes in total.
Allow cupcakes to cool completely on a wire rack before frosting.
Chocolate Ganache
In a small pot, heat whipping cream till bubbles form at the side. Do not allow it to boil.
Pour hot whipping cream over chocolate and whisk till chocolate melts.
Refrigerate till semi solid for ease of piping.
Buttercream
Using a standing mixer fitted with the paddle attachment, cream together butter and peanut butter.
Add sifted icing sugar and cream on medium high speed for a few minutes till the frosting is light and fluffy.
Add whipping cream and cream for another minute or so.
Use frosting immediately, or refrigerate it for a short while so that it can set up a little for smoother piping.
If using frosting that has been refrigerated for some time, whisk it up before use.
To Assemble
Fill a piping bag fitted with the filling tip with semi-solid chocolate ganache.
Insert ½ way into each cupcake and fill. Do not overfill or cupcake surface may crack.
Fill a piping bag fitted with the 1M open star tip with the peanut butter buttercream.
Pipe swirls or ruffles on each cupcake.
Refrigerate for 30 minutes to allow buttercream to set up before serving.
(For more stability in the buttercream, you can replace half the butter with shortening.)