I will confess that I've never baked bread before. Yes. Me, an avid baker (well, sort of), not baked bread before? Well, that's because I've always been intimidated by the one million steps required to bake bread. The activating of the yeast, the proofing, the punching, the re-proofing. It all seems to tedious. Nevertheless, I really wanted to do something for Easter and so I decided to take the plunge.
I found a basic recipe online and changed a couple of things. It all turned out rather well I would say. The only silly thing I did was that I killed the yeast on the first try – my milk was a tat bit too hot. I had to pour away the yeasty milk and start over. Thank goodness I had enough yeast left. The proofing took less time than expected; the punching down of the dough was fun. All in all, I might try this again.
Like I posted on facebook, I never quite understood the link between Good Friday, Easter, Bunnies and perhaps even the buns. But I liked how hot cross buns are decorated with the icing cross. It reminds me of my Saviour's sacrifice for me on the cross many many years ago. And how I'm only here because He gave. Happy Easter everyone.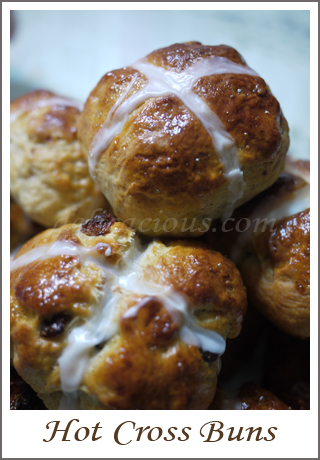 Hot Cross Buns (makes 12 buns)
180 ml milk
7 g instant dry yeast
1/2 tsp caster sugar
500g plain white flour
55g light brown sugar
1 tsp ground cinnamon
1/4 tsp ground ginger
1/4 tsp mixed spice
1/4 tsp ground nutmeg
1/2 tsp salt
55 g unsalted butter (slightly soft at room temperature)
2 large eggs
85g mixed fruit and peel (cherries, sultanas and fruit peel)
25g dried cranberries
Egg wash:
1 large egg
1 tbsp milk
Glaze (for cross):
70g icing sugar (sifted)
1 tbsp milk

Instructions:
Gently warm milk to about 38 degrees C. Add yeast and caster sugar and stir. Set aside till yeast is foamy (about 5-10 min).
Combine flour, brown sugar, spices and salt in a large mixing bowl. Add foamy yeast mixture to the dry ingredients and blend to combine using an electric mixer.
Add eggs, one at a time, and mix well after each addition.
Turn the mixer speed down, and add in the butter. Mix till butter is well combined and the dough comes together.
Attach the dough attachment to the mixer, and knead the dough until it is elastic (about 5-7 min).
Transfer dough to a lightly floured surface, and knead in the dried fruit.
Place dough in a large, lightly greased bowl. Flip the ball of dough once so that the surface of the dough is lightly greased.
Cover with plastic wrap and allow to rise in a warm place until it has doubled in size. (About 1 hour plus)
When dough has doubled, punch it down, and cut it into 12 equal pieces.
Shape each piece into a ball and place it on a baking sheet lined with baking paper. Ensure that they are spaced out to allow space for further rising.
Combine one egg with one tablespoon of milk to make an eggwash.
Brush eggwash over the top of each ball of dough.
Cover with a clean towel/plastic wrap and allow them to double in size (about 30 minutes)
Preheat oven to 205 degrees celsius.
Brush top of buns with eggwash again and using a sharp, greased knife, make a cross at the top of each bun.
Bake for 15 minutes, or until buns are nicely browned.
Cool them on a wire rack.
Meanwhile, combine icing sugar with milk to form a glaze.
Fill a piping bag with glaze and pipe crosses on the top of each bun when bun has cooled.