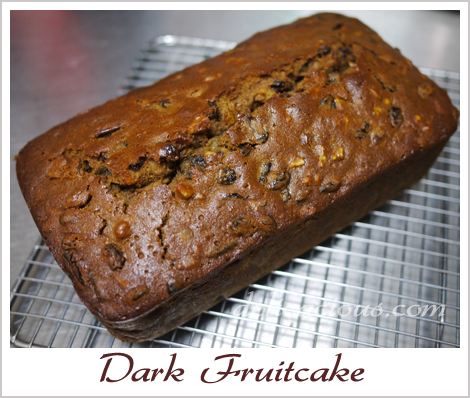 My mother surprised me a couple of weeks back by requesting that I bake her a fruitcake this year. She does not have a very sweet tooth, and hardly ever requests for any baked goods and so this was indeed surprising. I didn't even think she liked fruitcakes! Anyway, it was too late to start soaking fruits in brandy then, so I decided to make one that didn't involve any soaking of fruits. The cake however, should be stored for a couple of weeks before eating. As I type this, my loaf of fruitcake is sitting in the refrigerator, nicely wrapped in plastic and foil. I know that fruitcakes are supposed to be able to keep at room temperature for a month or more, but seeing how my kitchen seems to be a war zone for ants lately, I am not taking any chances.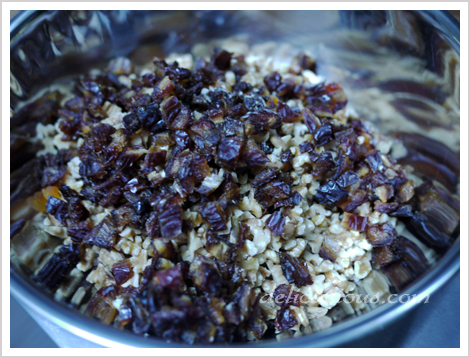 The amount of fruit and nuts used for this recipe is rather phenomenal. All that fruit and nuts in the photograph above yielded two 9 X 5 inch loaves. The fruitcake turned out nicely after baking with the aroma of brandy wafting through the oven doors. We finally cut the cake up a month later and boy was it lovely. Best enjoyed with a fragrant cup of English tea.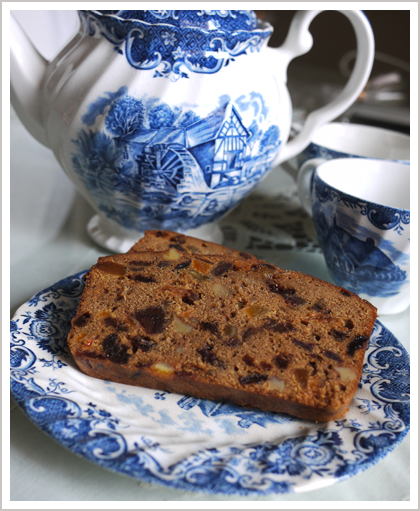 Dark Fruitcake
(yields two 9 X 5 inches loaves)
Recipe adapted from Joy of Cooking
Ingredients:
3 cups plain flour
1 tsp baking powder
1/2 tsp baking soda
1/4 tsp salt
1 tsp ground cinnamon
1 tsp ground nutmeg
1 tsp ground all spice
4 oz unsalted butter, at room temperature
2 cups packed dark brown sugar
6 large eggs
1/2 cup molasses
Grated zest and juice of 1 orange
Grated zest and juice of 1 lemon
1/2 cup brandy
2 1/2 cups diced mixed fruits
2 cups coarsely chopped walnuts
1 1/2 cups chopped dates
1 1/2 cups dried golden raisins
1 cup chopped dried apricots
Method:
Preheat the oven to 300ºF. Grease two 9 X 5 inch loaf pans and line the bottom and sides with parchment paper.
In a large bowl, sift together flour, baking powder, baking soda, salt and all the ground spices.
Using a standing mixer, beat butter till creamy. Add in dark brown sugar and beat till creamy and lightened in colour and texture, 3 to 5 minutes.
Beat in one egg at a time, scraping the sides of the bowl as necessary.
Beat in molasses, lemon and orange zest and juice.
On low speed, add in the flour mixture in 3 parts, alternating in 2 parts with the brandy.
Finally, stir in the mixed dried fruits using a spatula.
Scrape the batter into the two pans and spread evenly.
Bake until a toothpick inserted in the centre comes out clean, about 1 1/2 hours. If the cake gets too dark on top, tent it loosely with foil for the last 30 – 45 minutes.
Let cool in the pan on a rack for 1 hour.
Invert the cake and remove the liner and let it cool the right side up on a rack.
When totally cool, wrap cake with plastic wrap followed by foil.
Cake are recommended to be stored for 3 – 4 weeks before serving.