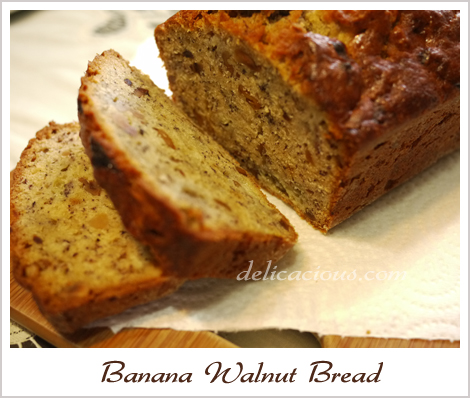 Hubby bought a huge bunch of bananas some time back, and since it's just the two of us, most of the bananas ripened (or over ripened) before we could eat them. We froze about 8 of them in a box – over ripe bananas freeze well, without their skins of course, and are delicious in all kinds of baked goods.
Seeing that I had some leftover walnuts from the not so recent mooncake making attempts, I decided to try a recipe from the book "The new best recipe". The recipe is really simple because it does not require the use of a mixer. All the mixing can be done just with a wooden spoon and spatula. The results, as you can see from the picture above, is a moist, fragrant and very flavourful banana walnut bread. One of the best I've tasted, if I say so myself. Below is the slightly modified recipe that I used from the book.
Banana Walnut Bread
(Makes one 9-inch loaf)
Ingredients:
2 cups unbleached all purpose flour
1 cup of walnuts, chopped coarse
3/4 cup sugar
3/4 tsp baking soda
1/2 tsp salt
4 very ripe medium sized bananas (mashed)
1/4 whipping cream
2 large eggs, lightly beaten
6 tbsp melted and cooled unsalted butter
1 tsp vanilla extract
Method:
Preheat oven to 350 degrees F and place an oven rack in the middle position. Grease and flour the bottom and sides of a 9 by 5 inch loaf pan.
Lightly toast chopped walnuts on a baking sheet till fragrant.
Whisk flour, sugar, baking soda, salt and walnuts together in a large bowl. Set aside.
Mix mashed bananas, cream, eggs, butter and vanilla with a wooden spoon in a medium bowl.
Lightly fold the banana mixture into the dry ingredients with a rubber spatula until just combined. Do not overmix.
Scrape the batter into the prepared pan and bake till loaf is golden brown and a toothpick inserted in the centre comes out clean, about 55 minutes.
Cool in the pan for 5 minutes, then transfer to a wire rack. Serve warm or at room temperature.
The bread can be wrapped with plastic wrap and stored at room temperature for up to 3 days. It is best consumed on the day it is baked though.