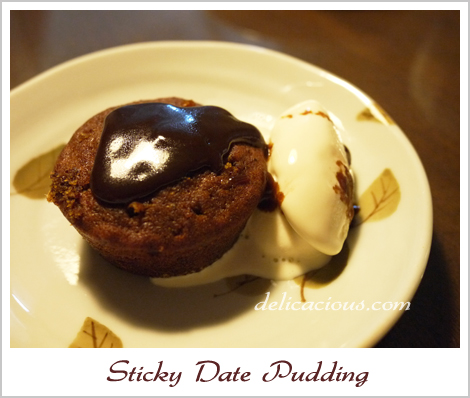 The dates had been sitting in the fridge, unopened in their package for many many months. It's a good thing that dates keep well as I have a bad habit of buying stuff and not using them. One Sunday afternoon, after flipping through a few recipe books, I decided that I would use them in a sticky date pudding. The recipe looked simple, and so, thinking that I had ample time to complete it before dinner, I busied myself with other things. To my horror, I realised a few hours later that the chopped dates needed to be soaked in hot water for an hour before they could be used. Processing of the dates (pitting them and chopping them) also took longer than expected. I ended up with a bowl of mashed dates with insufficient time to complete the recipe. So the dates (mashed this time), went back to the fridge, in a bowl covered with cling film.
A few days later (didn't I say dates keep well?), I finally had the time to finish the recipe. And oh wasn't it lovely. The pudding melts in your mouth and the aroma of the dates, together with the toffee sauce was simply heavenly. Family members and colleagues all loved it and I believe you would too! This is definitely a recipe worth trying.
Sticky Date Pudding
(Makes 12 small cakes)
Recipe adapted from Desserts By The Yard
Ingredients:
8 ounces pitted Medijool dates, finely chopped
1 cup boiling water
1 3/4 cups all purpose flour
1 1/2 tsp baking powder
1/8 tsp salt
1 tsp baking soda
4 ounces unsalted butter, softened
3/4 cup packed light brown sugar
1/4 cup sugar
1/4 tsp grated orange zest
1 tsp Trablit coffee extract
2 large eggs, room temperature
Method:
Place the chopped dates in a bowl and pour on boiling water. Let it sit for 1 hour.
Preheat the oven to 350ºF with a rack placed in the middle shelf. Butter 2 cupcake trays.
Sift together flour, baking powder and salt.
Mash dates in the bowl with the water. Stir in baking soda and set aside.
Using a stand mixer, cream butter, brown sugar, sugar, orange zest and coffee extract on medium until fluffy.
Add eggs one at a time, scraping down the bowl after each addition.
Beating on low speed, alternate half the date mixture with half the flour mixture.
Add in the remaining date mixture, then the flour mixture.
Pour into prepared cupcake tray and place in the oven.
Bake for 15 minutes, rotate the pan from front to back and bake for another 10 minutes.
When the cake is done, remove from oven. While the cake is still hot, poke the cake in several places with a skewer and pour on the toffee sauce (see below).
Serve warm, with vanilla bean ice-cream for extra decadence.
Toffee Sauce
Ingredients:
3/4 cup packed dark brown sugar
1 cup heavy cream
1 tbsp unsalted butter
1 tbsp vanilla bean paste
1/4 cup milk
2 tbsp light corn syrup
1 tbsp water (optional)
Method:
Place the brown sugar, cream, butter, vanilla paste, milk and corn syrup in a heavy saucepan.
Simmer over medium-high heat until the mixture thickens and cots the back of a spoon, about 10 minutes.
Continue to cook until golden brown, 1 to 2 minutes more.
Remove from heat and keep warm.