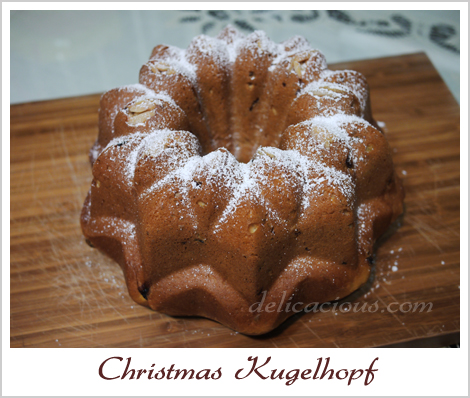 I really wanted to try to bake one of the popular Christmas breads this year. After flipping through a few recipe books, I initially settled on the one from Joy of Cooking. Something went wrong however, during the mixing process. The dough just didn't seem to come together sufficiently for me to shape it (or knead the raisins) into it. It just felt wrong. Not wanting to waste any more time or raisins, I decided to dump that batter and try again with another recipe. This time, it worked perfectly. The result? A lovely sweet bread filled with raisins and a wonderful reminder of Christmas. The icing sugar on the top of the bread is optional but it looks so Christmasy so why not?
I didn't have a kugelhopf pan but figured this star bundt would work as well. Nordic Ware makes such great bundt pans. They only need slight greasing and they hardly ever stick. Not to mention they ensure that your cakes/breads bake evenly. And no, I'm not paid to do a promotion for them here. It's just that good things are worth sharing.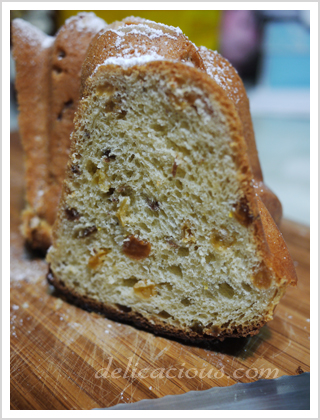 Kugelhopf
Fills a 11-12 cup bundt pan
Recipe adapted from Gourmet, 2002
Ingredients:
1 1/2 tsp instant yeast
2 tbsp warm water (105–115°F)
1 cup whole milk
7 tbsp unsalted butter, cut into tablespoon pieces and softened
6 tbsp granulated sugar
3 3/4 cups all-purpose flour
1 tsp salt
2 large eggs
1 cup golden raisins
1 cup dark raisins
4 tbsp rum
1 teaspoon finely grated fresh lemon zest
1/2 oz almond slivers (for decoration)
1 tablespoon confectioners sugar (for dusting)
Method:
Cover 1 cup dark raisins with just enough water in a small saucepan and bring to a boil. Drain raisins and place them in a small bowl. Add 4 tbsp of rum and let them sit for at least 4 hours or overnight.
Stir together yeast and water in a small bowl and let stand until foamy, 5 to 10 minutes.
Heat milk with 6 tablespoons butter and granulated sugar over low heat, stirring, until mixture is warm (105 to 115°F), butter is melted, and sugar is dissolved.
Sift together flour and salt into bowl of standing mixer. Make a well in flour and add yeast mixture. Add warm milk in a slow stream, mixing at low speed with paddle attachment. Increase speed to medium and beat in eggs 1 at a time, then beat in golden raisins, dark raisins with remaining rum and zest. Continue to beat until dough is smooth and elastic, about 5 minutes.
Butter kugelhopf mold or bundt pan with remaining tablespoon butter. Put 3-4 almond slivers in each depression in bottom of mold (the almonds are only decorative; you can skip them altogether if your mold has no depressions), then scrape spoonfuls of dough evenly into mold (dough will be very elastic). Cover top of mold with oiled plastic wrap and a kitchen towel and let dough rise in a warm place until it fills pan, about 2 hours.
Preheat oven to 400°F.
Remove towel from kugelhopf and gently peel off plastic wrap. Bake kugelhopf in middle of oven 15 minutes, then loosely cover mold with foil and continue to bake until golden and a tester inserted in center comes out clean, 20 to 25 minutes more. Cool in pan 2 minutes, then invert cake onto a rack to cool completely, about 1 hour. Dust with confectioners sugar.