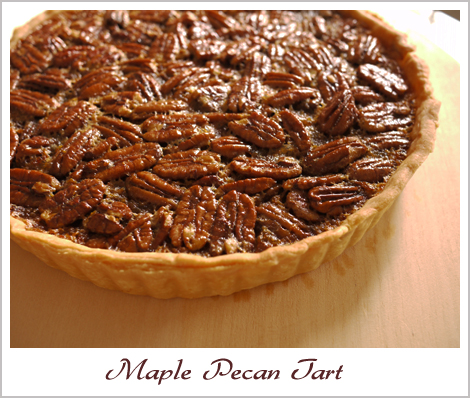 Pecan candy, pecan fudge, pecan rolls, honeyed pecans… somehow pecans always seem to be associated with Thanksgiving or Christmas, though I not quite know why. I tried searching around for information on it, but could not seem to find any. Nonetheless, in the spirit of Christmas, I decided to bake a maple pecan tart for the pizza gathering I wrote about in an earlier post. If you had read that post, you'd know that the attempt to make the dough for the tart went quite wrong, with it being blended into a paste form accidentally, when it was supposed to have bits of butter in it to ensure flakiness. I am happy to report that the tart crust recipe was pretty forgiving. Even though it was not as flaky as it should have been, it was still fairly crumbly. An untrained tongue probably would not have known that something went wrong.
When I looked through the recipe before baking the tart, I was pretty sure I was going to end up with an overly sweet tart, looking at the amount of maple syrup and sugar the recipe calls for. Nonetheless, those amounts were needed for the right balance between the sugars and the eggs to enable the filling to set. I was pretty glad when the tart did not turn out quite as sweet as I expected, thanks to the addition of the orange zest. It's a pity I could not get hold of any kumquats, which was what the original recipe called for.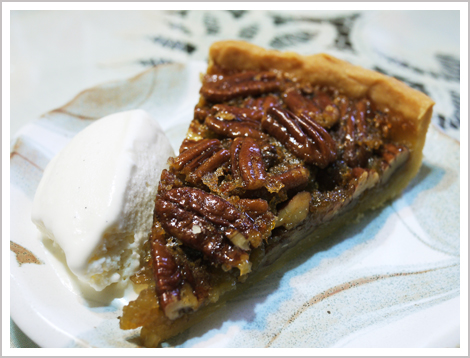 I served the tart with homemade vanilla bean ice-cream, the recipe of which I will post up soon. The vanilla bean ice-cream complemented the pecan tart perfectly. In fact, I think it's more winning a combination than the suggested whipped cream accompaniment.
Maple Pecan Tart
Makes 1 9-inch tart
Recipe adapted from Tartine
Ingredients:
Fully baked and cooled flaky tart shell (see below)
3/4 cup sugar
1/2 maple syrup
1/2 cup light corn syrup
2 tbsp bourbon whiskey
1/2 tsp salt
2 oz unsalted butter
1 tsp vanilla extract
3 large eggs, lightly beaten
2 cups of pecan halves
zest of 1 orange
vanilla bean ice-cream for serving
Method:
In a saucepan, combine the sugar, maple syrup, corn syrup, bourbon and salt. Place over medium heat, bring to a boil and continue to boil for a minute.
Take the pan off the heat and whisk in the butter as it melts.
Let the mixture cool to room temperature.
Preheat the oven to 350ºF while the mixture cools.
Add the vanilla extract and beaten eggs to the cooled mixture and stir till combined.
Stir in the pecans and orange zest and pour the mixture into the tart shell.
Bake until the filling is just set, about 50 minutes. If the top is browning too quickly, tent it with a piece of foil.
Let it cool on a wire rack before cutting.
Serve at room temperature (or warm if you prefer), with a scoop of vanilla bean ice-cream.
Flaky Tart Shell
Makes 1 9-inch tart shell
Ingredients:
1/2 tsp salt
1/3 cup of very cold water
1 1/2 cups + 2 tbsp of plain flour
5 1/4 oz very cold unsalted butter, cut into 1 inch cubes
Method:
Add salt to the water and stir to dissolve. Keep in the refrigerator until very cold.
Place the flour in the bowl of a food processor. Add the cold butter cubes to the flour and pulse briefly until mixture forms large crumbs.
Add the water and salt mixture and pulse for several seconds until the dough begins to come together. Do not over pulse!
Shape the dough into a disc 1 inch thick and wrap tightly in plastic. Chill overnight.
Roll chilled dough to 1/8 inch thick. Lightly dust work surface with flour to prevent dough from sticking.
Cut out a circle about 2 inches larger than the pan, and carefully transfer it to the tart pan.
Cut away the remaining dough or crimp the edge.
Chill the shell for at 30 minutes to an hour.
Preheat the oven to 375ºF.
Line the shells with parchment paper and fill with pie weights or a mixture of grains and beans.
Bake for 25 minutes on a middle rack.
Remove parchment and pie weights and continue to bake for another 5 to 10 minutes, until the shell is golden brown.
Let the shells cool completely on wire racks before filling.