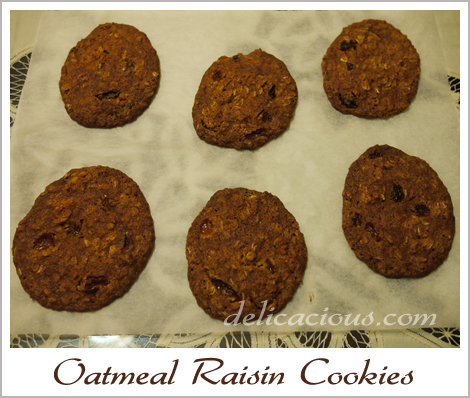 I didn't manage to take a decent photo of these cookies when I baked them – the photo that you all see above does not look very appetising but I guarantee you, these are really good chewy cookies.
The slightly modified recipe below is taken from one of my favourite books – Desserts By The Yard. The troublesome part about these cookies is that the raisins (that makes them oh so good) require special preparation. The good part about these cookies is that the dough freezes really well, and can last about a month (or slightly more) in the freezer. When you want to eat freshly baked cookies, you'd just have to take the cookie dough logs out of the freezer, slice them up, bake them and wala! Freshly baked oatmeal raisin cookies, straight from the oven.
Recipe:
(Makes 24 large cookies)
1 1/2 cups plain flour
1 tsp baking soda
7 ounces unsalted butter, softened
3/4 cup sugar
3/4 light brown sugar
1 1/2 tsp grated nutmeg
3/4 tsp ground cinnamon
2 eggs at room temperature
3 cups of rolled oats
1 1/2 cups of fat raisins (see other recipe below)
Method:
Sift together flour and baking soda.
Using a mixer, cream butter until lemony yellow, about 2 minutes. Add the sugar, brown sugar, nutmeg and cinnamon. Continue creaming on high speed for about 2 minutes, until the mixture is smooth and lump-free.
Add eggs one at a time, scraping down the bowl and paddle after each addition. Beat on low for 15 to 30 seconds, until the eggs are fully incorporated.
On low speed, add the sifted flour mixture, beating until all the flour is incorporated. Scrape down the sides of the bowl.
On low speed, mix in the oats and raisins.
With a rubber spatula, scoop out the dough and divide it in half. Centre one half along the bottom of a sheet of baking paper and roll up the paper, creating a log of about 2 inches wide and 12 inches long. Repeat with the other portion of dough.
Refrigerate the logs for a minimum of 1 hour. The logs can be wrapped in cling film and stored for 3 days in the refrigerator or 1 month in the freezer.
Preheat oven to 350 degrees F. Remove dough from parchment when it's firm and chilled and using a serrated knife, slice 1/2 inch rounds off the log.
Place the cookies on prepared baking sheets, 2 – 3 inches apart.
Bake for 12 minutes, rotate the sheets from front to back and bake for another 5 – 8 minutes, until the cookies are nicely browned.
Remove the parchment from the cookie sheets and allow to cool for 5 minutes before eating. Cool completely before storing.
Recipe for Fat Raisins:
(makes 1 cup)
1 cup golden raisins
1/2 cup dry white wine
2 tbsp freshly squeezed orange juice
1 tbsp dark rum
2 tbsp sugar
Method:
Combine all ingredients in a small heavy saucepan, bring just to boil over medium heat, stirring continually.
Lower the heat so that the liquid is at a bare simmer and poach for 20 minutes.
Remove from heat, cover the pan with cling film, and allow to cool to room temperature
Store in an airtight container in the refrigerator.
The raisins can keep for up to 2 weeks.