I made this dish for dinner when mom came over on the eve of National Day. It was a recipe adapted from Thomas Keller's "The French Laundry Cookbook". Soft and tender pan-seared scallops accompanied by mushrooms and asparagus puree. This dish has a myriad of interesting flavours and textures. Everything turned out really tasty and mom raved about it. Dinner was completed with a serving of homemade passion fruit ice-cream with dark chocolate ganache.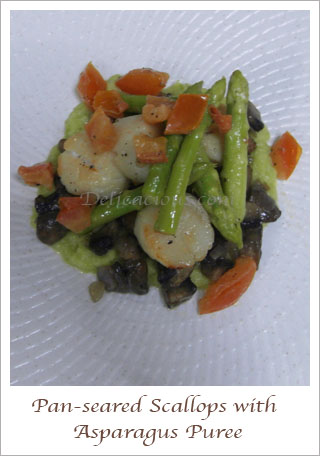 Pan-seared scallops with Mushrooms and Asparagus Puree
Ingredients
10 stalks of asparagus
¾ cup chicken stock
6-8 brown button mushrooms, chopped into cubes
3 tablespoons unsalted butter
1 small sprig of thyme
2 cloves of garlic, meshed and finely chopped
½ tablespoon chopped shallots
1 tablespoon cubed tomatoes
8 medium sized scallops
Canola oil
white pepper and sea salt to taste
Instructions
Trim away the bottom ⅓ of the asparagus. Cut 1.5 inch long tips from the spears and reserve the stalks.
Blanch the tips in boiling water till just tender and remove to an ice-water bath. Blanch the stalks in boiling water till fully cooked and remove to an ice-water bath.
Puree the stalks in a blender with just enough stock for them to turn. Alternatively, use a hand-held blender.
Pour the puree into a fine sieve and allow to stand for 5 to 10 min to allow the excess liquids to drain. Set aside.
Heat 1 tablespoon butter in a saute pan. When hot, add mushrooms, thyme and garlic. Add the shallot and cook for another minute or so. Remove from heat and season with salt and pepper. Keep warm.
Warm the asparagus tips with the tomatoes and 1 tablespoon of butter over low heat. In a small saucepan, warm the asparagus puree and whisk in the remaining 1 tablespoon of butter. Season both with salt and pepper. Keep warm.
In a skillet, heat the canola oil over medium heat. Dry the scallops and season with salt, place them on the pan. Cook the scallops for only a minute or so on each side, or until they're golden browned. Do not overcook them or they'll become tough and stringy.
To serve, place a spoonful of puree on each plate. Centre a spoonful of mushroom mixture over it and top with the scallops. Arrange the asparagus tips and tomatoes over the scallops.