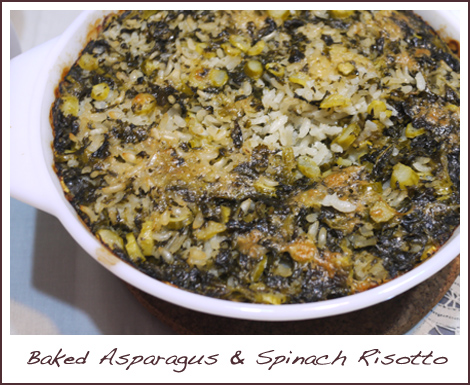 This simple risotto is great for nights where you feel like something fast and "meatless". Though it is almost vegetarian (just switch the chicken stock to vegetable stock), it is chock full of flavour. A risotto dish typically requires one to stand in front of the stove patiently stirring and adding ladles of hot stock. This one does not require much patience as you just need to pop it into the oven. Both my husband and 18 month old daughter loved it!
Ingredients:
Serves 4
Adapted from Patricia Well's Trattoria
1 tbsp olive oil
1 small onion, finely chopped
1 cup Arborio rice
2 cups low sodium chicken stock (or vegetable stock if preferred)
1 cup thawed, chopped frozen spinach, packed
10 spears fresh asparagus, cut into thin diagonal slices
salt to taste
1/2 cup freshly grated parmesan
Method:
Preheat oven to 200°C.
In a deep skillet, saute onion in olive oil until translucent.
Add the rice, stirring to coat with the oil.
Add chicken stock, spinach and asparagus and bring to simple over moderate heat.
Stir in half the cheese.
Add salt to taste (I don't usually add salt)
Transfer to casserole and smooth out the top.
Sprinkle remaining parmesan on top.
Cover the casserole
Bake in the centre of the oven for 35 – 40 minutes, or until rice is cooked through.
Serve immediately.