My mom-in-law gave us two thick stalks of asparagus today. I decided to make use of some of the left over ingredients that we had to make something rather unique.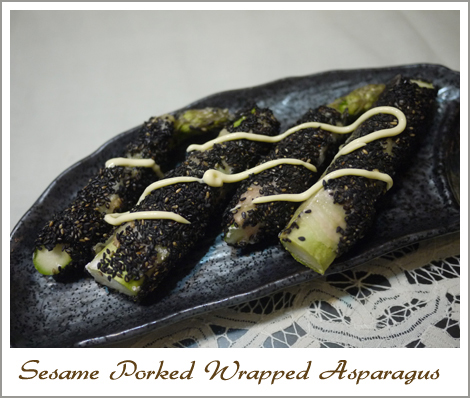 What's that you ask? Well, it's asparagus wrapped with thinly sliced pork and coated with sesame seeds. These are baked for just 5-10 minutes and they're really very good. One bite into the asparagus and you taste a varety of flavours. The fragrance of the roasted sesame seeds blended with the pork and the juiciness of the asparagus. Yums. I will definitely do this again, maybe with white sesame seeds.
Ingredients:
12 stalks of asparagus (regular sized ones)
12 thin pieces of pork (substitute with proscuitto if you like)
1 cup of flour
1 cup of white/black sesame seeds
1 egg, beaten
Method:
Wash and dry asparagus and remove skin of bottom half if necessary. If asparagus is too long, halve them.
Coat asparagus with flour.
Dip it in egg and coat evenly with sesame seeds.
Place it on a baking tray lined with baking paper.
Bake for 10 minutes at 180°C.
Serve with mayonnaise or wasabi mayonnaise.