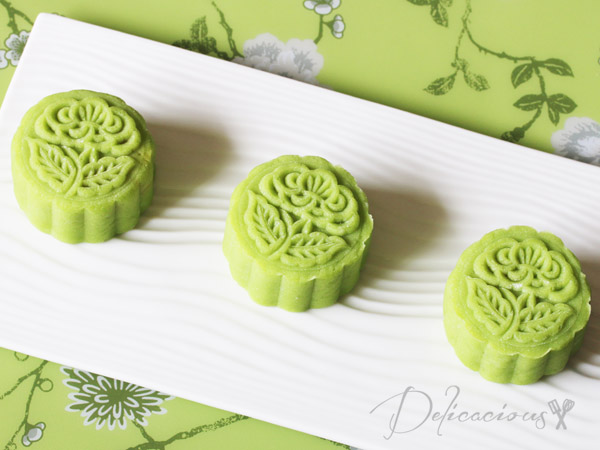 Mid-autumn festival is approaching and I'm back on the blog after a 2 months hiatus. I gave birth to my 2nd baby girl two months ago (she's such a cutie) and have had my hands rather full. Now that she is slightly older, hopefully I'd have more time to blog (fingers very crossed). But I digress. Let's go back to mooncakes.
I have fond memories of mini pandan snow skin mooncakes that my mom would buy from this old fashioned bakery near Alexandra during Mid-autumn festival. I was probably in my teens then and to me, those were really delicious snow skin mooncakes. They were freshly made, had a strong pandan flavour and the snow skin was very soft. Unfortunately, the bakery closed down a couple of years later and I couldn't find similar mooncakes. So a couple of years ago, I decided to start making my own. One of the more popular mooncakes I've made are these Red Wine Berry Snow Skin Mooncakes.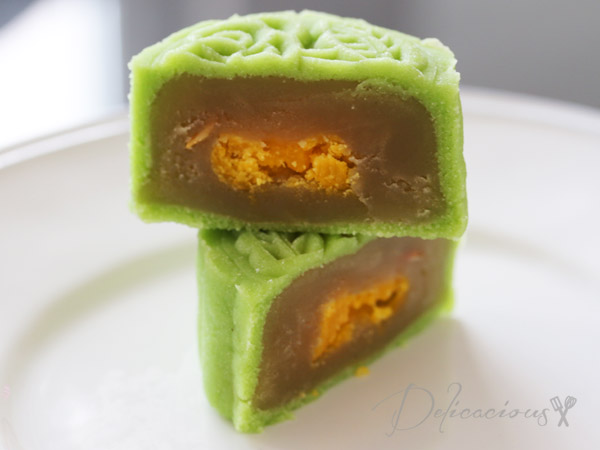 This year, I decided to start my snow skin mooncakes production with these pandan snow skin mooncakes. I am not a fan of artificial colouring and so these mooncakes have no pandan essence added. Instead, I blended more leaves with less water to obtain a more concentrated pandan juice extract. Alternatively, you can also let the juice stand in the fridge overnight. The more concentrated juice will sink to the bottom of the container.
Pandan Snow Skin Mooncakes
Serves:
10 mini mooncakes
Ingredients
Snow Skin
75g kou fun or cooked glutinous rice flour
110g icing sugar
25g shortening
80ml pandan juice extract (See notes)
Filling
400g low sugar white lotus paste
10g toasted melon seeds
3 cooked salted egg yolks (cut into quarters)
Instructions
Sift kou fun and icing sugar into a large mixing bowl.
Rub in shortening with finger tips.
Make a well in the middle and pour in the pandan juice extract.
Mix well and knead to form a smooth dough.
Wrap dough in cling wrap and allow dough to rest in the fridge for 30 minutes.
Mix lotus paste with melon seeds.
Scale at 40g each and wrap a quarter cooked salted egg in the centre. Set aside.
Remove snow skin dough from fridge and knead a second time till smooth.
Roll dough into a log and scale at 25g.
Flatten a piece of dough and wrap it around a lotus paste ball.
Place it in a mooncake mould dusted with kou fun.
Dislodge mooncake from mould. Enjoy!
Notes
1. For pandan juice extract, I blended 8 long pandan leaves (cut into small pieces) with 150ml of water. Press the blended leaves through a sieve to obtain all the extract. Store extra extract in the fridge.
2. This recipe is for a 65g mould. If using a different size mould, scale at the ratio of 40% skin and 60% filling.
3. Mooncakes are best consumed within 2-3 days. If storing in a mooncake box (non-airtight), it is best to wrap clingfilm around the box.