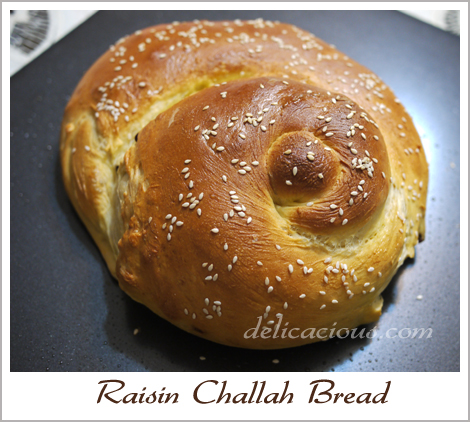 This simple raisin bread is made from the challah dough recipe that can be found here. The result is a soft and fragrant sweet breakfast or teatime bread. I especially enjoy it when it's lightly toasted, with a little extra butter spread on top. The bread may look complex but I assure you that this dough is really quite easy to handle and shape.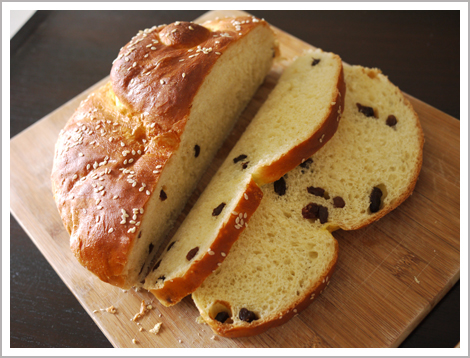 Raisin Challah Loaf
Makes 1 Loaf
Adapted from Artisan Bread in Five Minutes a Day
Ingredients:
1 pound of challah dough (recipe found here)
1/3 cup raisins
Butter for greasing cookie sheet
Egg wash (1 egg mixed with 1 tbsp water)
White sesame seeds
Method:
Grease a cookie sheet.
Dust the surface of the refrigerated dough with flour and cut off a 1 pound piece.
Dust with more flour and quickly shape it into a ball by stretching the surface of the dough around to the bottom on all four sides.
Using a rolling pin and just a little flour, roll out the dough to the thickness of 1/2 inch.
Sprinkle with raisins and roll into a log, starting from the longer end.
Roll the dough between your hands and stretch it to form a single long thin rope with a tapered end.
Starting with the thick end of the rope, form a coil on the prepared cookie sheet. Tuck the tapered end under the loaf.
Allow to rest for 1 hour 20 minutes (40 minutes if you are using fresh dough).
Ten minutes before baking, preheat oven to 350ºF.
Brush the loaf with egg wash and sprinkle with sesame seeds.
Place near the centre of the oven and bake for 25 minutes.
Allow to cool before slicing or eating.