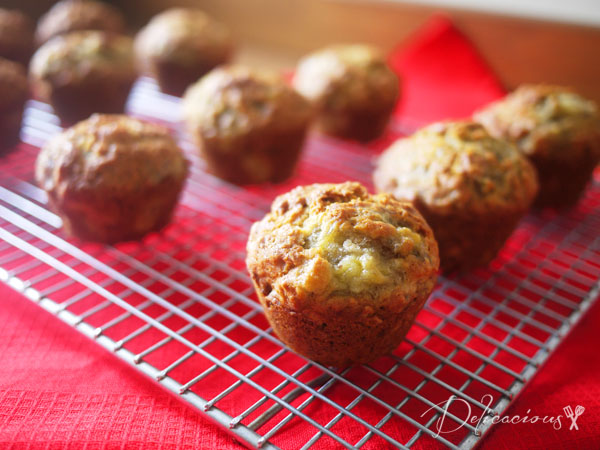 How many recipes does one need for banana muffins? Just one really. A really good one. I've tried more than a couple of banana muffin recipes in the past years and this banana muffin recipe is definitely a keeper. There are a few tricks for good banana muffins. Firstly, make sure you use over-ripe bananas. When you have a bunch of bananas that are over-ripe and you don't feel like baking just yet, peel them and freeze them for use later. Don't throw them away! Personally, I find that the local variety "red meat bananas" make the best banana muffins/cakes/breads. My grandma calls them "ang bah jio". Second trick – do not over mash the bananas. This gives the muffins a better texture. Lastly, use brown sugar for a more fragrant muffin.
Really Good Banana Muffins
Ingredients
2 cups plain flour
⅔ cup brown sugar
½ cup toasted coarsely chopped walnuts
½ tsp baking soda
½ tsp salt
4 large ripe bananas
2 eggs
3 oz unsalted butter, melted
¼ cup buttermilk
1 tsp vanilla extract
Instructions
Preheat oven to 180°C. Spray a 12 cup muffin tray with non-stick baking spray and centre an oven rack.
In a large bowl, combine flour, sugar, walnuts, baking soda and salt.
In a separate bowl, coarsely mash the bananas.
Add beaten eggs, butter, buttermilk and vanilla and stir to combine.
Add wet ingredients to the dry ingredients and gently fold (I use a whisk) to combine.
Fill each muffin cup till ¾ full.
Bake for 15-20 minutes, or until muffin tops are golden brown and a tester comes out clean.
Cool to room temperature.