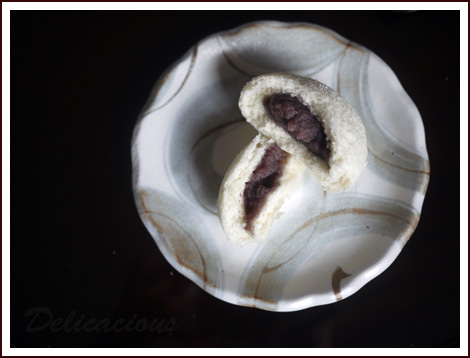 Two weeks ago, my mother went for a class to learn how to make steamed red bean buns. A few days later, she tried to replicate the recipe with not-so-successful results. The bread of the buns tasted weird, and the red bean filling was grainy. Needless to say, she was rather discouraged even though we tried to render support by eating a few of the buns.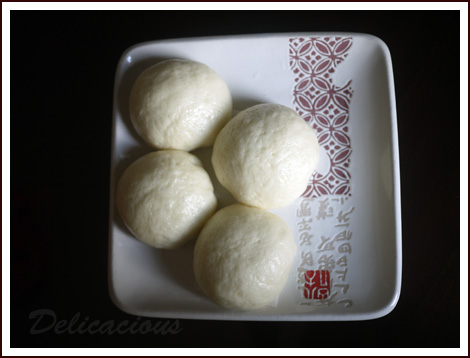 So on Saturday, in preparation for Mother's Day, I decided to make my version of steamed red bean buns. I combed through many variations of making red bean paste and pau dough, and came up with my own variation. It was a success! True, it was much work making the red bean paste from scratch and it required some forward planning, something that is not my forte. But the results were rewarding – especially when the red bean paste actually tastes like red bean, and not some sweetened mush that you buy in a packet.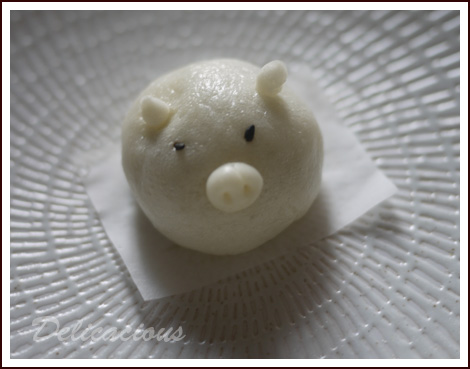 My husband participated in the making of the buns too! His favourite activity? Making animal faces. He became very popular with my daughter after she saw this little piggy. His effort disappeared in a couple of minutes though, as my daughter declared that she was going to eat the piggy soon after she saw it.
So you've decided that you want to embark on the journey of making your very own steamed buns? Here are some photo tips.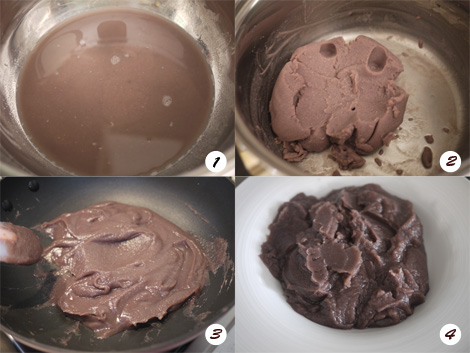 When straining the red bean paste into the bowl, immerse the sieve into the red bean water. This will help remove the skins. After straining the paste twice, you should get a water red bean paste mixture.
When squeezing out excess water, be careful not to squeeze out too much water. The paste should not be crumbly, and you should be able to form indentations with a spoon or finger.
When mixing the red bean paste with sugar, the paste will become more fluid and glossy. Mix until you obtain the thickness of paste that you desire.
The completed red bean paste should look like this.
Ensure that your yeast is active. It should foam like shown in the picture.
After kneading in the mixer (or by hand), the dough should be smooth and should not be sticky. Shape it into a ball and allow it to rest.
It should triple in volume.
Knead the dough gently and divide the dough into 14 equal pieces (my pieces are not very equal). This dough handles very easily.
Enclose the red bean paste filling by forming little pleats and pinching the dough towards the centre. This forms the base.
Ensure that your buns are spaced at least 2 – 2.5 inches apart as they will expand when they steam.
So now you are ready to try to make your own steamed buns!

Steamed Red Bean Buns (Tau Sar Pau)
A recipe on making steamed red bean buns (tau sar pau) from scratch! Make your own red bean paste (tau sar) and sweeten it according to your taste.
Ingredients
Red Bean Paste (Tau Sar)
1 cup of red beans
¾ to 1 cup of sugar
Dough
3 tbsp sugar
⅞ cup warm water
11/2 tsp dried yeast
3 cups Hong Kong flour
11/2 tsp baking powder
1 tbsp shortening
Instructions
Red Bean Paste
Soak red beans in water overnight. The water should cover the red beans.
Pour away the water used to soak the red beans.
In a large pot, add the soaked red beans. Add water to the pot - it should be about 1 inch above the red beans.
Bring to a boil over a medium flame and turn off the flame. Allow it to stand for about 10 minutes. Pour away the hot water.
Fill the pot once again with water till about 1 inch above the red beans.
Bring to a boil and then turn the flame down.
Simmer for about 1 hour, or until red beans are soft.
Sieve the red beans and water into a large bowl.
Using a metal spoon, mash the red beans in the sieve, leaving only the red bean skins behind. Repeat till all the red beans are mashed and skins removed. Wash the sieve.
Sieve the red bean paste and water through the sieve to remove any bits.
Using a cheesecloth bag, squeeze out excess water from the red bean paste and water mixture.
Put the paste into a metal pot over medium heat. Add sugar (according to your taste) to the paste and stir in a back and forth motion till the sugar dissolves. The paste will become more fluid.
Continue to stir in a back and forth motion until you reach the desired thickness for your paste.
Optional: If you'd like your paste to be more glossy, you can fry your red bean paste in 1-2 tbsp of vegetable oil after the last step.
Allow red bean paste to cool to room temperature. Keep in fridge until required.
Shape red bean paste into 1 oz balls and set aside till dough is ready.
Dough
In a bowl, dissolve sugar in warm water.
Sprinkle yeast on the surface of the water and allow it to foam (about 10 minutes).
Meanwhile, sift flour and baking powder into the bowl of a standing mixer prepared with a dough hook.
Add shortening.
When the yeast mixture foams, add it to the flour mixture in the mixer bowl.
Knead the dough using the mixer for about 5-7 minutes, until it is smooth and does not stick. (If using hands, this step takes about 10-12 minutes).
Remove dough from the mixer bowl and shape it into a ball.
Place in a large clean bowl and cover with cling wrap.
Allow it to rise in a warm place till it triples in volume.
Remove from the bowl and knead it slightly to remove some air.
Divide the dough into two portions and roll each portion into a log.
Divide each log into 7 equal pieces.
Shape each piece with your palm till it is a 10-12cm in diameter circle.
Add a ball of red bean paste to the centre. Enclose the red bean paste by forming neat pleats and folding towards the centre. Place the folded side on a piece of small baking paper.
Repeat till all the dough and paste has been used up.
Let the buns stand for about 15 minutes before arranging them in a bamboo steamer. The buns should be about 2 inches apart as they will expand.
Steam for 10 minutes.
Serve hot or cool to room temperature and freeze.