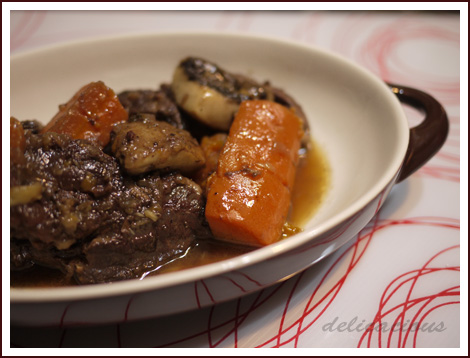 I love beef stews cooked with red wine. Red wine adds a depth and flavour that stock alone cannot achieve. So when my mother-in-law bought a batch of brisket for stewing, I could not resist trying out this recipe from Dorie Greenspan's book – Around my french table. I have made a few changes though, to reduce the alcohol amount and have also added mushrooms to it. Through the long hours of cooking (2.5 hours), the alcohol does boil off a little but a significant amount remains.
I made this recipe at night, let it cool overnight and reheated it the next day. I then added the sauteed mushrooms to it. It tastes even better the next day as the flavours combine. I will definitely be making this fuss-free recipe again.
Beef Daube

Print recipe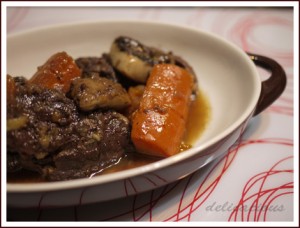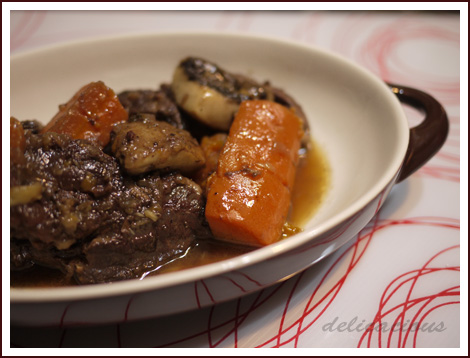 | | |
| --- | --- |
| Serves | 4-6 |
| From book | Adapted from around my french table |
Ingredients
4 medium slices bacon (cut into 1-inch wide pieces)
1kg beef brisket (cut into 2-3 inch cubes)
2 tablespoons canola oil
salt and pepper
2 yellow onions (thinly sliced)
1 garlic head (halved horizontally)
3 large carrots (halved horizontally, then quartered lengthwise)
250ml beef stock
500ml red wine
1 sprig dried thyme (or 2 sprigs fresh thyme)
1/4 teaspoon dried rosemary
1/4 teaspoon dried parsley
2 bay leaves
400g button mushrooms (sliced thickly)
2 teaspoons olive oil
1/4 teaspoon dried parsley
Directions
Step 1
Centre an oven rack and preheat oven to 175°C.
Step 2
Put a dutch oven over medium heat and cook the bacon till the bacon just browns. Transfer bacon to a bowl.
Step 3
Dry the beef between sheets of kitchen paper and season with salt and pepper. Add 1 tbsp canola oil to the bacon fat and brown beef in batches. Set aside.
Step 4
Pour off oil in pot, add remaining 1 tbsp of oil and heat it over medium heat. Add in onions and cook till onions soften. Throw in the garlic and carrots and stir to combine. Pour in the red wine, scraping up the brown bits from the bacon.
Step 5
Add in the beef stock, beef and bacon, and herbs. Stir and bring everything to a boil.
Step 6
Place a piece of foil over the pot and cover with the lid. Slide the pot into the oven and allow it to braise for 1 hour.
Step 7
Pull pot out of oven, give everything a stir, and return for another 1.5 hours. Season with salt and pepper. (At this point, you can cool the daube to room temperature and chill it for up to 3 days in the fridge).
Step 8
In a small skillet, heat 2 tsp of olive oil and add in the mushrooms and parsley. Season with salt and pepper. Cook till mushroom releases their liquids. Allow the liquids to cook off before adding mushrooms to the daube.
Step 9
Remove the bay leaves, thyme sprigs and garlic head. Serve hot over mash potatoes or buttered rice.