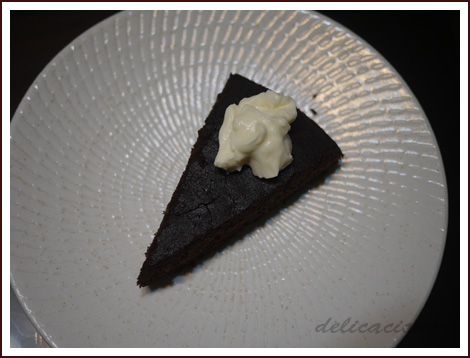 I posted some time earlier about a red wine chocolate bundt cake that received rave reviews from my friends. So when I had half a bottle of unfinished red wine, I thought about baking that cake again. While surfing though, I came across a recipe on smitten kitchen that looked simpler and really good. So I tried that instead and tested it on my colleagues.
The texture of the cake is a cross between a brownie and a cake. It is dense but moist and boy was it rich. Deb from smitten kitchen calls it the real velvet cake and I think she is right. The cake is baked at a fairly low temperature of 160°C and so the alcohol does not boil off much. The red wine flavour comes through really strongly so my advice would be to use a fairly good bottle of red wine. I used a merlot for this cake, but you can use pretty much any kind you like. The mascarpone cream topping is a must. Do not omit that!
Red wine chocolate cake with mascarpone cream

Print recipe
| | |
| --- | --- |
| Website | adapted from smitten kitchen |
Ingredients
cake
3oz unsalted butter (at room temperature)
2/3 cups brown sugar
1/4 cup caster sugar
1 egg + 1 yolk
3/4 cups red wine
1 teaspoon vanilla extract
1 Cup + 1 Tablespoon plain flour
1/2 cup Dutch processed cocoa powder
1/2 teaspoon baking powder
1/8 teaspoon baking soda
1/4 teaspoon salt
1/4 teaspoon ground cinnamon
mascarpone cream
1/2 cup mascarpone cheese
1/2 cup chilled whipping cream
2 tablespoons caster sugar
1/2 teaspoon vanilla extract
Directions
Step 1
Preheat oven to 160°C. Line a 9 inch round cake pan and spray the interior with a non-stick spray.
Step 2
Using a standing or a handheld mixer, cream butter until smooth then add the sugars and beat till light and fluffy.
Step 3
Add the egg and yolk, then the red wine and the vanilla and beat after each addition. The batter will look lumpy.
Step 4
In a separate large bowl, sift together flour, cocoa powder, baking powder, baking soda, salt and cinnamon.
Step 5
Sift the ingredients over the wet ingredients and combine on low speed. Fold in the last bits with a rubber spatula. Do not overmix!
Step 6
Bake for 25 minutes on the centre rack of the oven. The tester should come out clean. Do not overbake or the cake will be dry.
Step 7
Cool for 5-10 minutes in the tin then turn it out onto a rack and cool till it comes to room temperature. Dust with icing sugar if you like.
Step 8
Whip together mascarpone cheese, whipping cream, sugar and vanilla extract till soft peaks form. (Cream can be refrigerated for a couple of hours)
Step 9
Serve each slice of cake with a large dollop of cream.