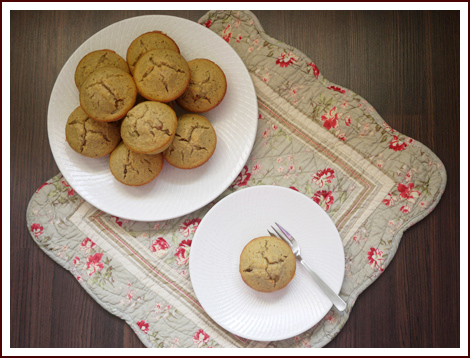 First thought that comes to mind when someone mentions oatmeal muffins? Do the words dry, bland, gummy come into mind? Well I was not quite a fan of oatmeal muffins, but THIS oatmeal muffin is very different. For one, it does not use oats whole, but uses toasted ground oatmeal. It has a distinct taste of oats with a fragrance likened to popcorn. Intrigued?
I came across this article on my Cook's Illustrated magazine on oatmeal muffin. Those of you who read Cook's Illustrated will know that they spend extended time testing recipes and refining them. They suggested that toasting and grinding up the oatmeal allows it to absorb liquid quickly, while giving it flavour. Who would have thought of doing that?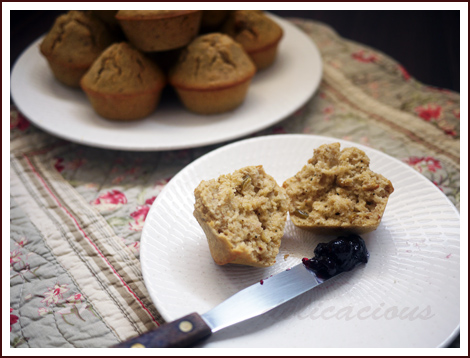 Since I had an unopened packet of oats sitting around, I decided to give the recipe a try. Although muffins are typically fast to prepare, this one does take time. So if you are intending to make this muffin for breakfast, plan ahead! I didn't and so my starving family had a late breakfast. Also, the original recipe calls for a streusel topping which I find sweet. I removed the streusel topping and added some raisins instead to sweeten up the muffin a little.
The resulting muffin was fragrant and moist. It went very well with jam and my family enjoyed it. This was baked in conjunction with Cook For Family's event which ends today.

Toasted Oatmeal Muffins
Ingredients
2 tbsp butter
2 cups rolled oats
1¾ cups all-purpose flour
1½ tsp salt
¾ tsp baking powder
¼ tsp baking soda
6 tbsp butter, melted
1¼ cup light brown sugar
1¾ cups milk
2 large eggs
1 cup raisins
Instructions
Using a non-stick spray, grease a 12-cup muffin tray.
Melt 2 tbsp butter in a skillet.
Add oats and cook, stirring frequently until oats turn golden brown.
Transfer oats to a food processor.
Process until finely ground, about 30 seconds.
Add flour, salt, baking powder and baking soda and pulse till combined.
In a large mixing bowl, whisk butter and sugar together till thick and smooth.
Add milk and eggs and whisk till smooth.
Using a large whisk, fold half of oat flour mixture into the egg mixture.
Fold in remaining oat flour gently.
Add raisins and stir to combine.
Allow batter to sit for 15 minutes to thicken.
Preheat oven to 190°C and place an oven rack in the middle position.
Using an ice cream scoop, divide batter equally among 12 muffin cups. The batter should fill each cup to the brim.
Bake for about 20 minutes till muffins are golden brown and a tester inserted in the middle comes out clean.
Allow muffins to cool on wire racks for 10 minutes.
Serve warm, or allow them to cool completely before storing.
Notes
Adapted from Cook's Illustrated magazine Muffins are best eaten the day they are baked. They can be kept in the fridge for up to 3 days and toasted before eaten.
I link up at
these parties
.