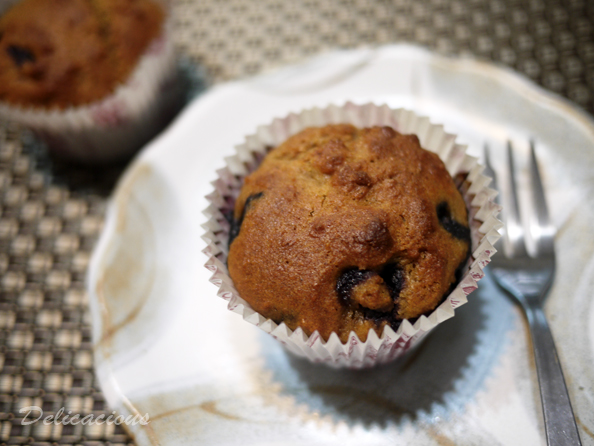 I have not been blogging very judiciously since starting a new job and my toddler starting a new school. The poor girl has been sick for more than a week and now my poor husband has gotten the flu bug too. Oh flu bug shoo! Don't you hate it when the flu bug passes from one family member to another? Time to dose up on Vitamin C.
I didn't get to bake/cook very much until last thursday when I discovered that my daughter didn't have anything for breakfast the next day. Since I had blueberries in the fridge, I thought, why not some blueberry muffins? They are high in anti-oxidant and vitamin C. Perfect for fighting flu. And to up the "healthy quotient" on this muffin, I decided to use 100% whole wheat flour.
Some muffins, when made with 100% whole wheat flour turn out dry and unpalatable. Not this one. With a good balance of milk, sour cream and oil, the muffin turns out moist and delicious, unlike typical whole wheat products. Tasty and healthy – what else can you ask for?
Whole Wheat Blueberry Muffins
Ingredients
2¼ cups Whole Wheat Flour
⅔ cup light muscovado sugar
¾ teaspoon salt
1 teaspoon baking powder
½ teaspoon baking soda
½ teaspoon ground cinnamon
1 cup blueberries, fresh or frozen
1 teaspoon vanilla extract
⅓ cup vegetable oil
1 cup light sour cream
½ cup milk
Instructions
Preheat the oven to 205°C.
Sift and whisk together all of the dry ingredients.
In a separate bowl, whisk together the vanilla, vegetable oil, sour cream and milk.
Pour the wet ingredients into the dry ingredients, stirring just to combine.
Fold in the blueberries. Do not overmix.
Spoon the batter into muffin cups, filling them nearly full.
Bake the muffins for 18 to 20 minutes, until a tester inserted into the middle of one of the center muffins comes out clean.
Remove the muffins from the oven, and transfer them to a rack to cool. Serve warm, or at room temperature.
Notes
Adapted from Kingarthurflour.com
This post is shared at Foodie Friday at Rattlebridge Farm and Simple living and eating, weekend Re-treat and Saturday Dishes.