Muffins are easy to make because they do not require a mixer, just gentle folding in by hand. It is really quick to prepare, as long as you have all your ingredients on hand. While most muffin recipes use all purpose flour, I prefer to use whole wheat flour because it's healthier, contains more nutrients and flavour. Here, I share one of my favourite muffin recipes. It is simple and the ingredients can easily be replaced to give you a variety of muffin flavours. Should you find the flavour of whole wheat flour too strong, feel free to replace half of it with all purpose flour. Whole wheat flour can be obtained from most good supermarkets such as Cold Storage or NTUC Finest. Try this easy and healthy recipe and you would never need to buy muffins again!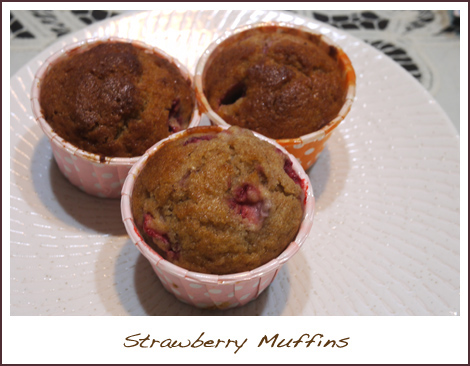 Strawberry Muffins
Makes 12-15 muffins
Ingredients
1 1/2 cup whole wheat flour
1/3 cup brown sugar
1 1/2 tsp baking powder
1/4 tsp baking soda
1/4 tsp salt
4 oz unsalted butter, melted and cooled
1 cup sour cream
1 egg
1 tsp vanilla extract
1 1/2 cup chopped strawberries
Method:

Preheat oven to 205°C. Line a muffin tray with 12 – 15 muffin liners (depending on the size)
In a large bowl, sift together flour, baking powder, baking soda, salt and sugar.
In another bowl, combine melted butter, sour cream, egg and vanilla.
Add butter mixture to dry ingredients and mix till just combined. Do not overmix!
Gently fold in strawberries.
Divide batter among muffin cups and bake in the middle of the oven for 20 minutes, or until a tester comes out clean.
Variations can be made by adding the following in place of strawberries
1 1/2 cup of fresh blueberries
1 1/2 cup of mashed banana
1 1/2 cup of chopped apple + a dash of cinammon
1 cup of chopped apple + 1/2 cup of almonds/pecans
1 cup of dried cranberries + 1/2 cup of white chocolate chips