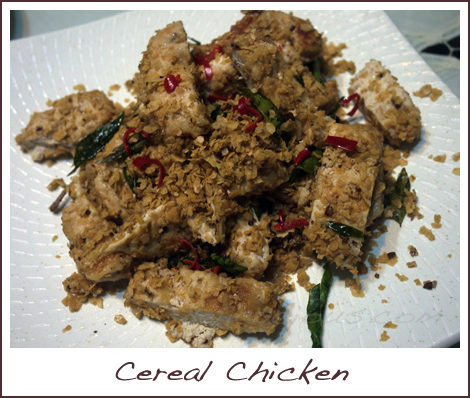 I've tried making cereal prawns several times, but I've never attempted using chicken in place of prawns. My cousin was coming over for dinner, and since she was allergic to prawns, I decided to tweak my usual cereal prawn recipe. The result was surprisingly delicious – the chicken was juicy and the cereal and curry leaves added flavour and fragrance. Though I personally prefer cereal prawns to cereal chicken still, this would make for a good alternative. If you prefer, you can use thinly sliced chicken strips instead, though the chicken may be less tender.
Cereal Chicken
Serves 4 (as a side)
Ingredients:
2 large piece of chicken breast meat, lightly tenderised
1 tsp corn flour
2 tsp light soy sauce
1/4 tsp pepper
1/4 tsp sesame oil
oil for frying
1 tbsp unsalted butter
1 tbsp vegetable oil
2 cloves of garlic, chopped finely
6 sprigs of curry leaves, rinsed and dried, stalks removed
1 chilli padi, thinly sliced (remove seeds if preferred)
3/4 cup Nestum cereal
1 tsp sugar
1/2 tsp salt
Method:
Tenderise chicken with a tenderiser.
Marinate chicken breast with corn flour, soy sauce, pepper and sesame oil. Cover and set aside in the fridge for at least 30 minutes.
In a skillet, heat oil over a medium flame.
Fry chicken breast till light brown on both sides. Chicken should be just cooked through.
Allow to cool slightly before cutting into slices. Set aside.
In a clean skillet or wok, heat butter and oil.
When butter has melted, add garlic, curry leaves and chilli and fry till fragrant.
Add in sliced chicken and mix well.
Add in sugar, salt and cereal and mix well. Do not overdo this step or cereal will not be crispy.
Serve hot with steamed white rice.