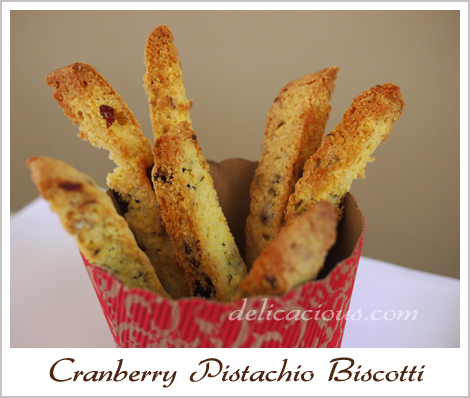 Cranberry and pistachio are two common ingredients. I suspect this is more to do with their colours than their flavours. Meaning to do something Christmasy, I decided to make cranberry pistachio biscotti by modifying a basic recipe from Dorie Greenspan's book – Baking, from my home to yours. This recipe is interesting in that it incorporated cornmeal which added a surprising fragrance and crunch to the biscotti.
So did the cranberry and pistachio combination work? Definitely. The biscotti received raving reviews from all who tried it. I even had requests for orders for it for Chinese New Year! I had to explain that it was a Christmas flavour, but on second thought, I guess it is a wonderful biscotti to have all year round.
Cranberry and Pistachio Biscotti
Ingredients:
1 1/2 cup all-purpose flour
1 1/2 tsp baking powder
1/4 tsp salt
1/2 cup yellow cornmeal
4 oz unsalted butter, at room temperature
1 cup sugar
2 large eggs
1  tsp vanilla extract
1/2 cup lightly toasted chopped pistachio nuts
1/2 cup dried cranberries
Method:
Place a rack in the center of the oven and preheat the oven to 350ºF. Line a baking sheet with parchment.
Whisk flour, baking powder and salt together. Add the cornmeal and whisk again.
Using a stand mixer, beat butter and sugar together at medium speed for 3 minutes, until very smooth.
Add eggs and continue to beat, scraping down the sides of the bowl as needed, for another 2 minutes or so, until the mixture is light and creamy.
Beat in the vanilla extract.
Reduce the mixer speed to low and add in the dry ingredients mixture, mixing only until they are just incorporated.
Scrape down the sides of the bowl, add in the chopped pistachios and cranberries and mix just to blend.
Scrape half the dough onto one side of the baking sheet. Using your fingers and a rubber spatula, work the dough into a log about 12 inches long and 1 1/2 inches wide.
Form another log on the other side of the baking sheet.
Bake for 20 minutes, or until the logs are lightly golden but still soft and springy to the touch.
Transfer the baking sheets to a rack and cool the logs on the baking sheet for 30 minutes.
Carefully transfer the logs onto a cutting board and with a serrated knife, trim the ends and cut the logs into 3/4 inch thick slices. Return the slices to the baking sheet, this time standing up.
Bake the biscotti for another 15 minutes, until they are golden brown and firm.
Transfer them to racks and cool to room temperature.
These will keep well at room temperature if stored in an air-tight container.