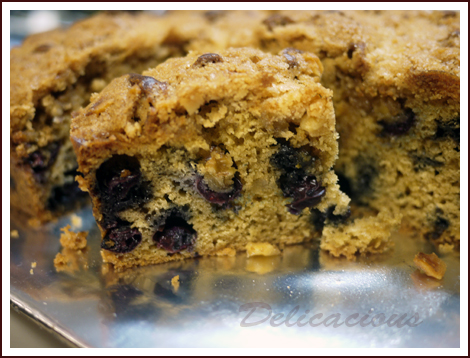 I am a terrible blogger. I discovered how terrible I was recently when I got myself onto Google+ and found out there was so much more to food blogging than I ever knew. Planning a blog post? You mean people plan blog posts and not just post whenever they fancy. Ah… but the knowledge is good. Now to start becoming more organised.
You see, I seldom plan what to bake/cook these days. It is usually a case of "oh the kid slept early today, now what can I bake?" or "I think these blueberries have been lying around the fridge for a little too long, I should do something about them". So it happens when those two statements fall on the same night, I bake blueberry crumb cake.
Now read crumb cake and you know that it has a streusel topping. I love streusel topping though it is probably way too sweet for my good and so I usually compensate by reducing the sugar in the cake. This time round, I attempted to ease my conscience by substituting half of the flour with whole wheat flour.
I brought this to work and colleagues loved it. Serve it with coffee or tea if you like. I was happy to eat it on its own.
Almost healthy blueberry crumb cake
Ingredients
Streusel topping
2.5 oz unsalted butter, at room temperature
¼ cup caster sugar
¼ cup light brown sugar
⅓ cup whole wheat flour
¼ tsp salt
½ cup chopped walnuts
Cake
2 cups fresh blueberries
1 cup plus 2 tsp plain flour
1 cup whole wheat flour
2 tsp baking powder
½ tsp baking soda
¼ tsp salt
¼ tsp ground cinnamon
½ cup light brown sugar
grated zest of 1 lemon
3 oz unsalted butter, at room temperature
2 eggs, at room temperature
1 tsp vanilla extract
½ cup milk
Instructions
Preheat oven to 175°C and place a rack in the centre of the oven.
Spray an 8-inch square baking pan with non-stick spray.
Using a fork, combine the ingredients for the streusel topping (except the walnuts) together.
Stir in the walnuts and keep covered with cling wrap and refrigerated until required.
Toss blueberries with 2 teaspoons of plain flour.
In a large bowl, sift remaining plain flour, whole wheat flour, baking powder, baking soda, cinnamon and salt. Whisk to combine.
In the bowl of a standing mixer, rub sugar and zest together with fingertips until sugar is moist and fragrant.
With the paddle attachment, cream sugar with butter at medium speed till light.
Add eggs one by one, beating for about a minute after each addition.
Beat in the vanilla extract.
Reduce mixer speed to low and add in the flour mixture and milk alternately, starting and ending with the flour mixture.
The batter will be thick. Stir in the blueberries with a rubber spatula.
Pour batter into the prepared pan and smoothen out the top.
Break refrigerated streusel topping into pieces and scatter over the top of the cake.
Bake for about 60 minutes, until the top is golden brown.
Transfer cake to a rack to cool.
Serve warm or at room temperature.
Notes
Recipe adapted from "Baking, from my home to yours"
This post is shared at Foodie Friday at Rattlebridge Farm and Simple Living and Eating and Freedom Fridays.